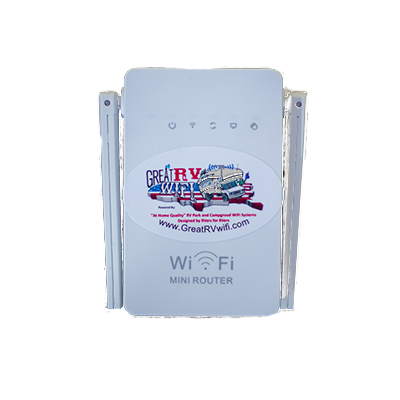 Offered by full-time RVers, this Ubiquiti based kit is built to be a basic solution to WiFi extending.
The GreatRVNano Kit Includes an outdoor antenna unit, charger, mount, and a 25' flat cable. This outdoor unit is paired with an indoor Ubiquiti WiFi Repeater and a cable to connect outdoor portion to the indoor portion.
Specifications - GreatRVnano
Outdoor Antenna
Base Technology:

Ubiquiti
2x2 MIMO
Mounting: pole/mast or RV ladder with mounting straps or suction attachment sold separately
Indoor Router
Base Technology: Ubiquiti
Wi-Fi Router: Yes

Power Source:

100V-240V AC

Dimensions: -

Outdoor Rated:

No

Retail Price:

$160.00
Testing Status: We are not currently testing this kit.
A Full Review of this Product is Available to our Members

We are honored to be able to present the above product overview for free without 3rd party advertising.
In thanks for funding this resource center our members have access to the in-depth unbiased review of this product based on our extensive hands-on time and testing.
If you're a member, please log in above to read the review.
Purchasing Options