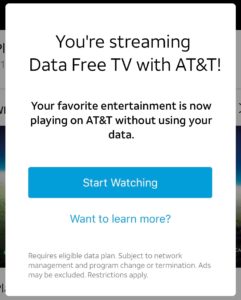 We've long recommended using HDMI output from smartphones to allow for big screen streaming using unlimited on device data.
This is a clever way to avoid hotspot data usage limits that make using tethered Smart TV devices (Apple TV, Roku, Samsung, Chromecast, etc...) while mobile a recipe for blowing through your entire monthly hotspot usage cap during a single night of binging.
But... This is only effective if HDMI output is actually enabled and working.
In May the major 2.0 update to the DirecTV Now iOS app broke HDMI output, making it useless for connecting to a larger screen.
Was this just a bug, or a change in policy by DirecTV to block this streaming workaround?
Good news - it was a bug, and it has been squashed!
The new 2.1 update to DirecTV Now adds back full support for HDMI output!
And better still, DirecTV Now now supports "Data Free TV" which allows for unlimited streaming over cellular on almost all AT&T plans without any of the data being counted - even against your network management limits.
Price Increase Warning: AT&T revealed this week that it is rolling out a $5.00/mo price increase for all DirecTV Now plans, and even current customers will see the increase. The new price goes into effect July 26th, and current customers will see the increase impact their next bill after that date. Even the original $35/mo promotional plan will see a jump up to $40/mo - no one is grandfathered in.
Data Free TV - Bypasses Even Network Management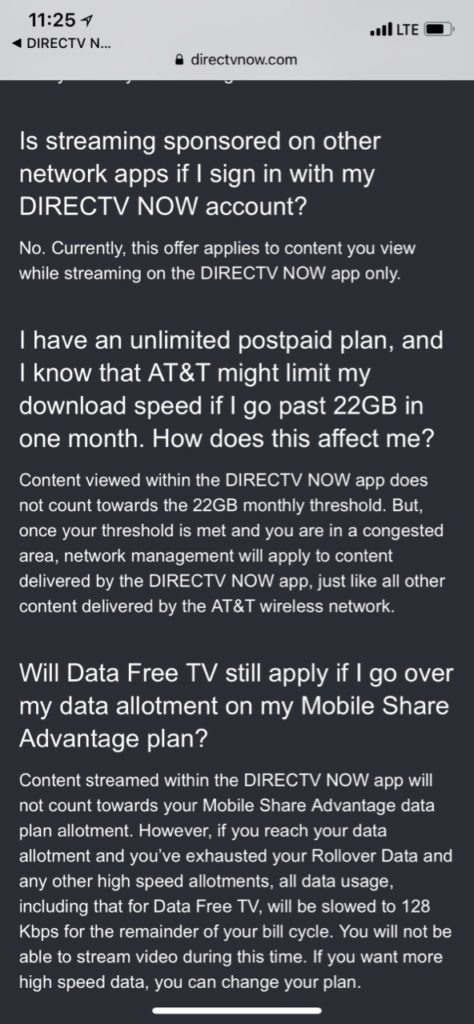 AT&T for a long time has not counted DirecTV streaming against your monthly limits on capped usage data plans, but DirecTV streaming still counted against your monthly 22GB network management threshold on AT&T unlimited plans.
Not anymore.
AT&T now says that:
"Content viewed within the DirecTV Now app does not count towards the 22GB monthly threshold. But once your threshold is met and you are in a congested areas, network management will apply to content delivered by the DirecTV Now app, just like all other content delivered by the AT&T wireless network."
In other words - as long as you keep your overall usage of everything other than the DirecTV app under 22GB in a month, no matter how much DirecTV you watch your AT&T plan will never slow down because of congestion.
But if you watch too much Netflix and push your usage over 22GB, even DirecTV Now will be potentially slowed down until your monthly counters reset.
Also revealed in the fine print - "Data Free TV" applies ONLY if you are streaming using the DirecTV Now app.
If you subscribe to premium channels, you still need to watch through DirecTV Now - you can't use the HBO or Starz or various other network apps and still avoid the data counting up.
These sure are sneaky incentives to keep people streaming inside AT&T's app!
NOTE: AT&T is also treating its new "Watch TV" streaming service that is bundled free with the new "&More" plans the same way as DirecTV Now - and data is not being counted in the same fashion.
DirecTV - Free, But No HD
We've tested it, and the new DirecTV app update is working better than it ever has before. The picture quality on a fast connection is great, though AT&T notes:
"The DIRECTV NOW app uses video optimization technology to provide a better streaming experience, and content is commonly viewable in Standard Definition quality."
If you want full HD, you will have to look elsewhere, or stream in 720p over Wi-Fi:
"Mobile streams on a smartphone or tablet may be limited to 480p standard definition when viewing on a mobile network. Wi-Fi connected devices can play in 720p."
This limit is enforced by the DirecTV Now app, and AT&T's Stream Saver video throttling feature does not impact this.
Data Free TV & Network Neutrality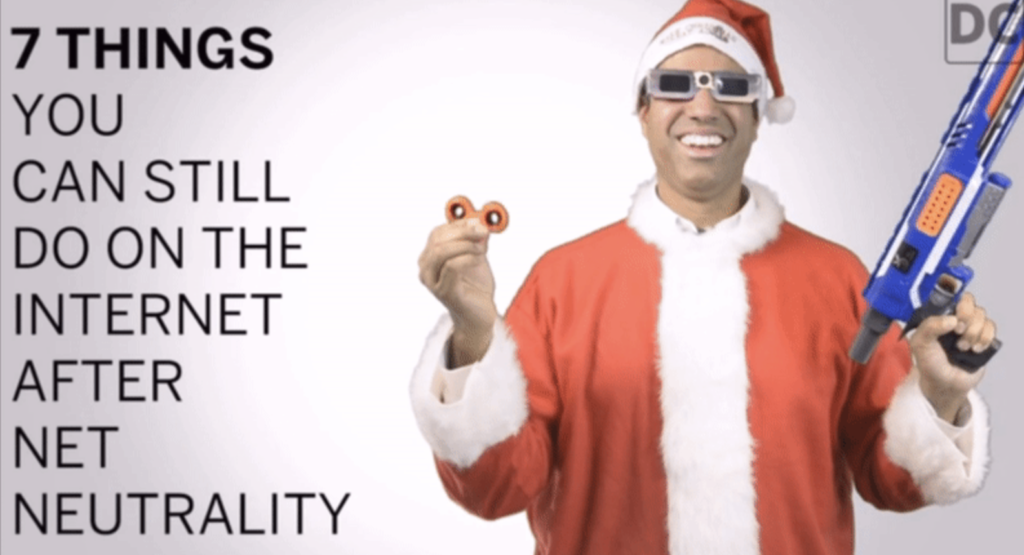 AT&T had experimented with providing special network treatment for DirecTV streaming in the past, but in early 2017 the FCC ruled that AT&T was violating Network Neutrality rules - saying:
"The Commission has long been concerned about the ability and incentives of network owners to thwart their downstream competitors' ability to serve consumers. ... Unlike T-Mobile, which charges all edge providers the same zero rate for participating in Binge On, AT&T imposes hefty per-gigabyte charges on third parties for use of Sponsored Data. All indications are that AT&T's charges far exceed the costs AT&T incurs in providing the sponsored data service. Thus, it would appear that AT&T's practices inflict significant unreasonable disadvantages on edge providers and unreasonably interfere with their ability to compete against AT&T's affiliate, DirecTV."
But now with Network Neutrality rules officially dead, AT&T is able to once again "unreasonably interfere" and favor DirecTV in ways that Netflix, YouTube, and other streaming services can not match.
If you are a DirecTV fan and an AT&T customer - this is great news.
But if you prefer other streaming services - know that this is just the first step of AT&T trying to push other services aside as second class citizens.
Getting Data Free TV & DirecTV Now
Data Free TV is available on all AT&T postpaid plans - including all legacy plans and even capped data plans.
Also, prepaid plans of more than $35/mo also include this perk.
But remember - streaming must happen within the app on your phone or tablet.
HDMI output and Miracast streaming is safe, but using Apple's Airplay or Google's Chromecast to output to a big screen will not use free data.
TIP: If you are concerned about the 22GB network management threshold, dedicating an tablet line exclusively to DirecTV Now streaming is a great way to avoid any risk of ever being throttled.
For more information on entertainment options while on the move, check our guide:
Bonus Member Only Content Available!
We go extra for our premium members - who make this resource center possible (did you notice the lack of 3rd Party advertising?). We have included some additional information in this news article just for our members - analysis, guidance and/or insider tips.
If you're not yet a member, please consider joining us. Extra content like this is one of the many perks we offer - in-depth content, guidance, discounts, alerts, classroom and more.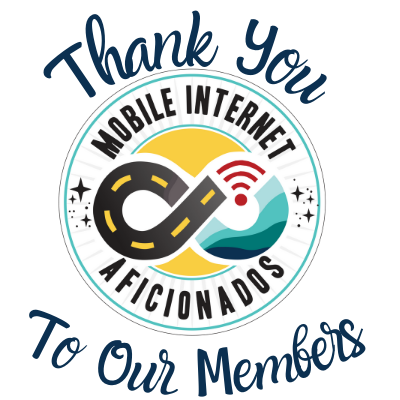 If you are already a member, please log in above to see the special content we have prepared for you.