Update: Since this article was written, more non-profit organizations have come up offering similar plans.

There are some as low as $10/month for qualified low income households, and others at $14/month with no qualifications.

We have set these type of plans up in the review center with further information we're tracking, and are testing the 4G Community plan.

Noted author and internet activist Cory Doctorow caused a stir last week with his article about a "secret tunnel that runs underneath the phone companies and emerges in paradise" - sharing how the non-profit Calyx Institute has figured out a way to offer unlimited and unthrottled LTE cellular hotspot service as a perk to supporters - with ongoing service costing just $400/year.
That works out to just $33.33/mo - for unlimited cellular data!
And since you are technically making a donation to a non-profit organization by signing up to become a contributing supporter of the Calyx Institute, you can actually write off a substantial portion of the service cost on your taxes!
It sounds like yet another too-good-to-be-true cellular data deal.
Is this really legit?
The Calyx Institute Loophole

The non-profit Calyx Institute has a long history of promoting internet privacy technologies - and has in the past offered its members cellular service on Clear's WiMAX network as a way to get online and anonymously surf the web.
Sprint bought Clear in 2013, and stopped providing service in 2015 - shutting down the legacy WiMAX network entirely to make more space for LTE.
But the obligations behind the scenes that were attached to Clear's cellular spectrum requiring that discounted service be offered to non-profits remained, and the old contracts were inherited by Sprint.
Calyx this year was able to update its agreement with Sprint - and is now promoting that it is able to offer LTE service to its members.
The reason this is possible is thanks to this loophole in the terms of service for the non-profits:
"You are permitted to use of the Service as long as you are a user, recipient or beneficiary of Calyx's non-profit programs or services, but not thereafter."
Do you care about privacy online? Then you are a beneficiary of the work Calyx does, and you qualify to take advantage of their non-profit pricing. Congratulations!
Is It Unlimited, or "30GB+"

Yesterday Calyx's website was touting that the service was "unlimited" - but due to the mainstream press attention Calyx has clarified:
"For legal reasons, we can't call it unlimited data service, but..... We are supposed to refer to it as 30 GB+.. however when you pass the 30GB mark during the month, the Internet service does not slow down (throttle), or cut you off, and there are NO overage charges."
Calyx's FAQ is explicit in saying:
Q: So does that mean users don't get cut off at 30GB ?
A: That's right, the contract says "no throttling, suspension, or overage charges after 30GB". We just began offering this service in April 2016 so we don't have a lot of experience with how Sprint handles its policies. However on a test unit we have been trying out, we used 100GB of data so far in just a day and a half and there has been no problem. We assume there is some theoretical limit where Sprint will get upset but we don't know what it is. Our recommendation is to be cool about it and not be abusive or take advantage, but that in a general purpose scenario it should be ok.
Sounds like a pretty sweet deal.
Another perk: because the Calyx Institute is focused on privacy, they are actually seem to allow members to sign up with a pseudonym and pay by Bitcoin, an interesting option if you'd like to surf as anonymously as possible.
The Big Downside: Sprint's Network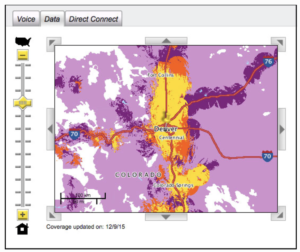 Despite what's Sprint's latest advertising might say - Sprint's LTE cellular network is in distant fourth place to Verizon, AT&T, and even T-Mobile when it comes to coverage and reliability - particularly in less-urban areas where RVers tend to roam.
And the service that Calyx is offering is limited to Sprint LTE only - with no fallback to 3G or roaming partners.
Calyx explains:
"The plan only works in the USA in Sprint's 4G/LTE service area. It does not include off-network roaming, and it is subject to any standard network management that Sprint may apply to commercial broadband data-only account users."
For a primary line of service for mobile RVers traveling outside of major cities - anything dependent only on Sprint's native LTE network will likely be extremely disappointing.
And since you are making a donation and paying for a year up front, there are no refunds to be had if the service does not work out in the places that you need it.
Another downside - the Netgear Fuse hotspot included with the service is a generation out of date and does not support Sprint's faster "LTE Plus" speeds. Calyx says that they aren't yet sure whether the service will continue to work if the SIM card is transplanted into a more capable Sprint-compatible device, like the ZTE Pocket Wi-Fi hotspot.
We will update our plan overview on Calyx in our review center if we learn the answer to this.
But even taking these downsides into consideration - effectively unlimited LTE service for $400/year is a pretty sweet deal. And as an added bonus, you are supporting a good cause in the process.
If you are interested in supporting the Calyx Institute and taking advantage of this offer, you can join here:
Become a member of The Calyx Institute - but we would anticipate they are likely dealing with an overwhelm of orders right now.