Yesterday AT&T changed and rebranded its Mobile Share plans on its website. Mobile Share Advantage is gone, replaced with Mobile Share Flex. The new Flex plans are very similar to the Advantage plans except for one big, unfortunate change: Price.
AT&T likely realized just how popular this move would be and opted to roll out this change on a Friday before a holiday weekend without any announcement or warning.
The previous Advantage plans are no longer listed on the website and technically no longer available.
Mobile Share Flex: The Changes
The big change is a de facto price increase - AT&T either increased the price for the same amount of data or reduced the size of the data allowance while keeping the price the same. The result is that tiered data plans on AT&T are more expensive, some ridiculously so.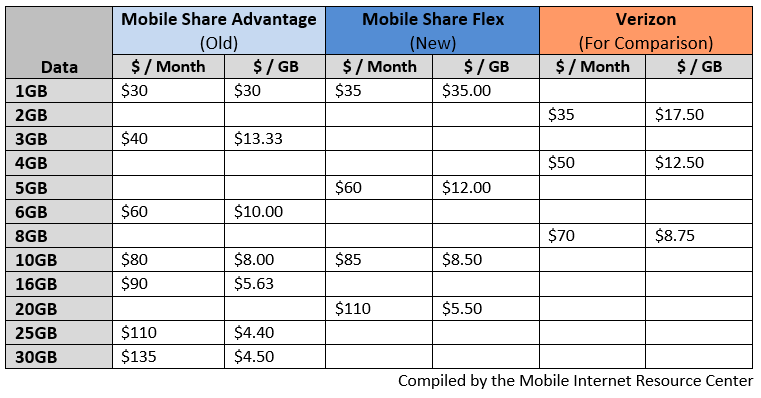 The chart above compares the new Flex plans with the previous Advantage plans on a cost per month and per Gigabyte basis. Verizon's data capped plans are included for comparison purposes. Across the board, the changes give customers less for more - so much so that getting an Unlimted plan with AT&T is cheaper in many cases.
AT&T has redefined "Flex" to mean "more expensive."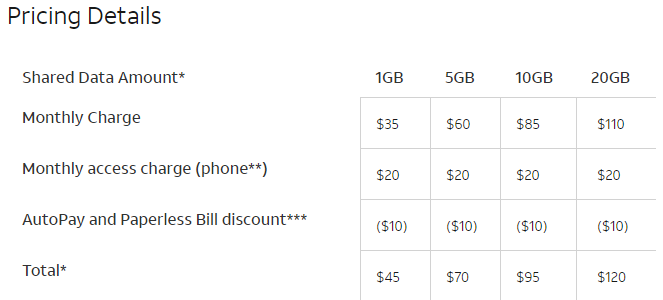 Features
The new Flex plans retain most of the features of the Advantage plans.
Rollover Data:
All plans include rollover data, but any rolled over data is only usable in the very next billing cycle. Flex also keeps the most annoying limitation to the rollover feature - Regular monthly plan data is consumed first, then rolled over data. So if you have a 10GB plan and only use 5GB this month, next month you will have 15GB available. But to tap into the extra 5GB, you have to use up your entire 10GB of plan data FIRST - meaning the following month you'll have no data rolled over at all.
Overage Charges:
There are no overage charges but speeds drop to a glacial 128kbps (2g) when the monthly data allotment is used up.
International Roaming:
International data roaming is only available in Mexico and only for the 10GB and 20GB plans and only for some devices. Connected vehicles, wearables, and the Wireless Home Internet (Home Base) device are exempt - these devices will be charged pay-per-use roaming rates in Mexico.
Like the previous Advantage plans, the Flex plans do not include any data roaming for Canada.
Stream Saver:
Like all other AT&T plans, stream saver is enabled by default but it can be turned off. Most users will want to keep this on if they plan to watch any video using these plans. The plans do not include any "free" streamed video content or HBO (which are exclusive to the Unlimited plans), so all data used comes out of the plan allotment.
Line Access and Other Charges:
AT&T retains the $20 monthly line access charge for smartphones, laptops, hotspots, and netbooks. However, those who are on a 2-year agreement (to get, for example, a free or discounted device) will pay $40 a month for the access charge. Tablets, wearables, gaming and other connected devices will pay $10/month per device except for the Wireless Home Internet (Home Base) device, which costs $30/month.
These plans are all eligible for the paperless billing and auto pay discount, which is $10/month.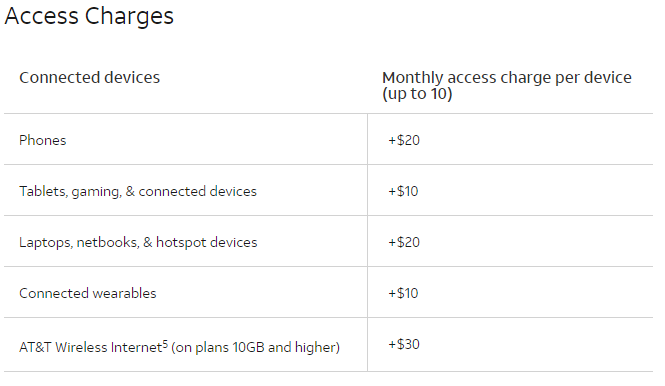 Should You Switch?
The short answer is no. There is little reason to switch to any of the Flex plans since they offer less value than the previous Advantage plans.
Those with existing Advantage plans are grandfathered and can add or remove lines and still keep the plan. However, Advantage plan customers who want to change their high-speed data allotment will be forced onto one of the new Flex plans. So the only reason to switch is if you really need to change your data allotment and want to stay with an AT&T tiered data plan. But compare the Flex plans carefully with the unlimited plans - in many cases, an Unlimited plan will be less money per month.
Summary
Overall, these plans are a significant downgrade from the Advantage plans...which weren't all that great to begin with. It's unclear why anyone would, for example, pay $45 a month (plus taxes and fees) for a phone plan with a paltry 1GB of data or pay $120/month for 20GB of data when Unlimited data and much better features are available for $90/month with AT&T's Unlimited Plus plan.
These plans are a bad value and should be avoided for most mobile internet users.