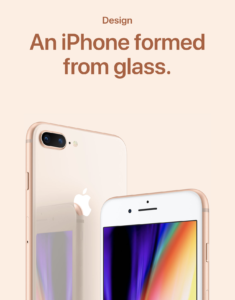 This past week Apple unveiled the new iPhone 8 line, and the stunning all-new iPhone X.
In just about every way these new phones raise the bar for the entire mobile industry, with laptop-caliber CPU performance in your pocket, incredible augmented reality features, and cameras that promise to take absolutely stunning pictures.
But...
While the latest iPhones are true next-generation flagship devices in just about every possible way - there is one key area where they are falling increasingly behind: cellular modems.
Based on early reports (to be fully confirmed after shipping), the new iPhone models lack support for several of the latest cellular technologies:
So why is Apple settling for being a generation behind when it comes to cellular performance?
It all comes down to the complicated relationship between Apple, Qualcomm, and Intel.
Qualcomm is Cellular King, But Apple Never Kneels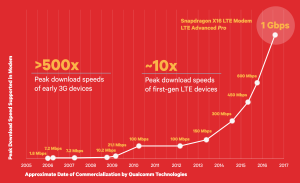 Qualcomm is the undisputed king of LTE modem chipsets - and has been driving the industry towards gigabit LTE performance for years now.
If you were designing a cellular device and performance at all mattered to you - Qualcomm has been pretty much the only game in town.
In the past nearly every high-performance cellular device has had a Qualcomm modem inside - and Apple has exclusively used Qualcomm modem chipsets up until the launch of the iPhone 7 last year.
But Apple absolutely hates being dependent upon any other company - particularly a competitor like Qualcomm who in addition to generic modem chipsets also provides the CPU chips for most Android flagship phones.
To avoid remaining dependent on Qualcomm - Apple has been backing Intel in developing a competing high-performance LTE modem chipset.
And last year with the iPhone 7 Apple released two models: the phones sold by AT&T and T-Mobile (and in most of the rest of the world) used the new Intel LTE modem, and the phones sold by Verizon, Sprint, and the universal "unlocked" model continued to use Qualcomm.
But newcomer Intel is (at best) a year or two behind Qualcomm when it comes to pushing LTE performance, so Apple reportedly actually disabled capabilities in the Qualcomm chipset it used to keep all iPhone 7's as identical as possible.
Ever since Apple announced its plans to work with Intel, there has been no love lost between former partners Apple and Qualcomm - and billion dollar lawsuits have been flying between them over the past year.
2017 iPhones: Dual Sourcing Modems Again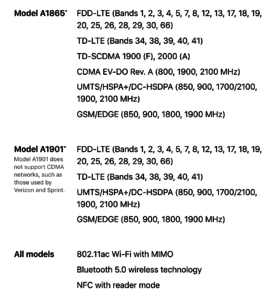 Though no one has had a chance to disassemble an iPhone 8 or iPhone X yet to know for sure - the spec sheets Apple has published reveal two models of each new iPhone yet again this year.
It seems all but certain that Apple is again using both Qualcomm and Intel behind the scenes.
Apple has no choice - Intel does not yet have any support for the legacy CDMA radio technology that powers Verizon and Sprint's 3G networks, so for now Qualcomm remains the only compatible option on those networks.
Intel is supposedly working on CDMA capability for 2018, and is also at least a year away from 4x4 MIMO and gigabit LTE capabilities.
To keep the entire product line balanced, it seems that once again Apple will be intentionally crippling the cellular capabilities even in the Qualcomm-powered models it sells.
Meanwhile - the latest Android flagships will be flying along boasting of gigabit cellular speeds.
Avoiding 'Intel Inside'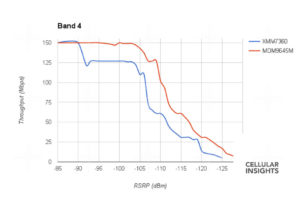 We love being able to swap SIM cards to move our cellular devices between carriers. The flexibility is incredibly useful in a range of circumstances, and we hate feeling locked in.
If you are like us and you want an iPhone that you can use on all cellular carriers in the United States, do NOT buy the Intel-powered models being sold by AT&T or T-Mobile!
The Verizon, Sprint, and the universal "SIM Free" iPhone models are a better choice - and have Qualcomm modem chips that will let them work on ALL the carriers in the United States.
Here is a guide to the iPhone model numbers, which you can find etched on the back cover:
A1865 - iPhone X, Qualcomm (Universal)
A1863 - iPhone 8, Qualcomm (Universal)
A1864 - iPhone 8+, Qualcomm (Universal)
A1901 - iPhone X, Intel (AT&T and T-Mobile)
A1905 - iPhone 8, Intel (AT&T and T-Mobile)
A1897 - iPhone 8+, Intel (AT&T and T-Mobile)
Make sure to double-check to make sure you get the model you are looking for.
In addition to compatibility, there may be another reason to avoid the Intel model: performance.
Last year - testing firm Cellular Insights published some detailed analysis comparing the Qualcomm and Intel powered versions of the iPhone 7 in laboratory conditions - and they discovered that the Intel modem performed substantially worse than Qualcomm in weak signal areas.
It will be very interesting to see if the performance gap has been closed in the 2017 models, or if this is still an issue.
Does Gigabit LTE Matter, Yet?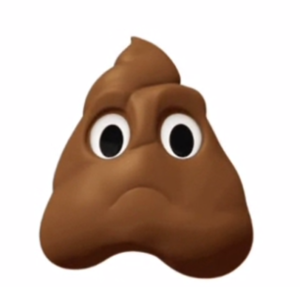 So how big of a deal is this? Does it really matter that Apple is a full generation behind when it comes to peak theoretical cellular speeds?
For most people, it shouldn't matter at all.
Peak theoretical speeds only matter in the places where the cellular infrastructure has been fully deployed to allow compatible devices to take advantage of these latest technologies - and this process takes years.
For the next year or two - it will likely be extremely unusual to find any places where the cellular modems in the iPhone 8 or iPhone X are at all lacking.
And just how often will you ever actually notice the difference between 100Mbps and 1000Mbps?
The more substantial missing feature (especially for T-Mobile fans) is the lack of 600MHz LTE Band 71 support.
If you plan to use your iPhone on T-Mobile, definitely look into offers that will let you easily trade in for next year's model.
Further Reading:
 Bonus Member Only Content Available!
We go extra for our premium members - who make this resource center possible (did you notice the lack of 3rd Party advertising?). We have included some additional information in this news article just for our members - analysis, guidance and/or insider tips.
If you're not yet a member, please consider joining us. Extra content like this is one of the many perks we offer - in-depth content, guidance, discounts, alerts, classroom and more.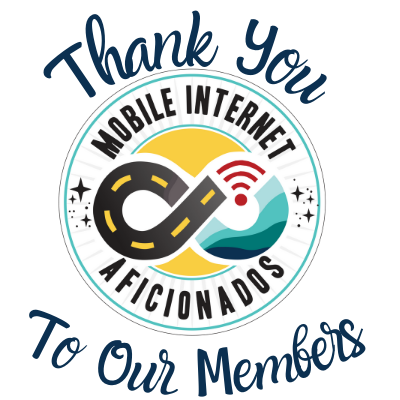 If you are already a member, please log in above to see the special content we have prepared for you.