Visible, a prepaid subsidiary of Verizon, today has launched and announced their new way for groups to save money on their already low $40/month unlimited prepaid smartphone plan.
They're calling it Party Pay, and it while it might sound similar to family plans - there are some major differences that make this an incredibly flexible way to save costs.
Video Version
Subscribe to our YouTube Channel
Visible Overview
Visible is an app managed prepaid cellular phone service, offered as a Verizon prepaid subsidiary that was initially launched in May 2018.
The plan is only compatible with some models of smartphones - most newer iPhones and a collection of newer Android-based smartphones (Galaxy S9, Pixel 3 and Visible R2).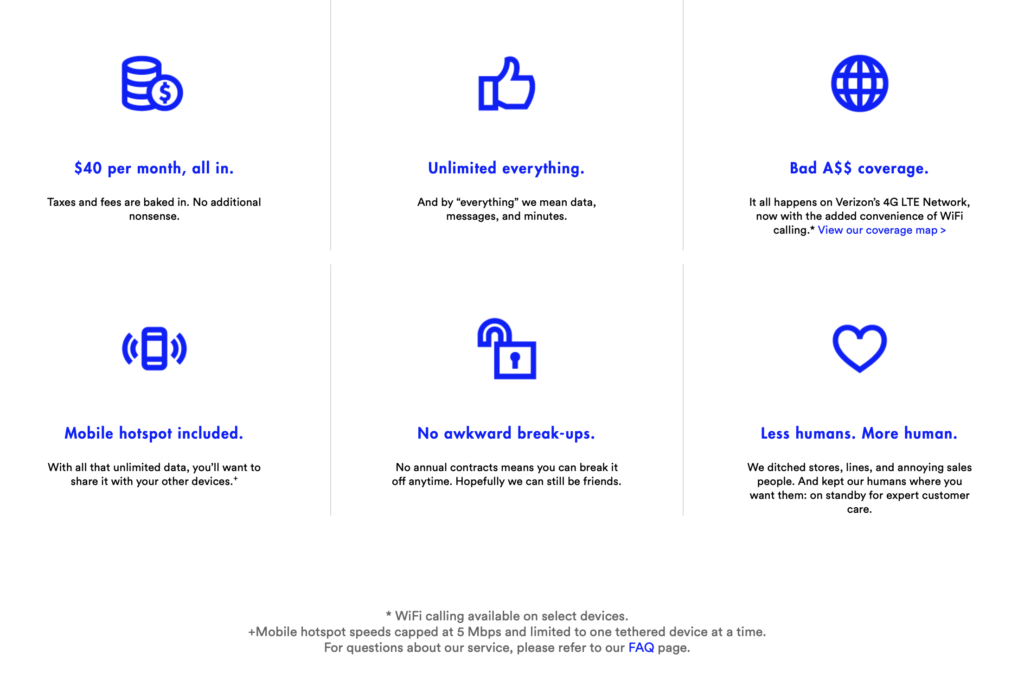 The Visible plan costs $40 for a single line, and - before today - was only available as a single line account.
Visible's app-based phone plan offers customers unlimited calling, text, and, as of June 26, 2019, high-speed on-device data, with unlimited mobile hotspot data for a single device at a time. However Visible terms state that mobile hotspot data is throttled to 5 Mbps.
Since on-device data speed throttles were lifted, multiple people reported that their mobile hotspot speeds are also not being throttled. However, in our own testing, we have seen intermittent signs of the throttling.
All Visible data usage is always subject to network management, meaning that data has a lower priority and data speeds may be slowed down when connected to congested towers. Video streams are also reduced to 480p resolution (DVD quality).
Visible does not include any Canada, Mexico or international calling, texting, or data usage.
Check our free review of Visible for more information on the terms and conditions of the plan, as well as real-world performance reports.
Party Pay
Since it launched in May 2018, Visible only offered a single line of service. If you needed multiple lines in your household, you had to signup for and manage individual accounts for each line.
Party Pay is Visible's fresh approach to multi-line discounts, and their replacement for their referral program.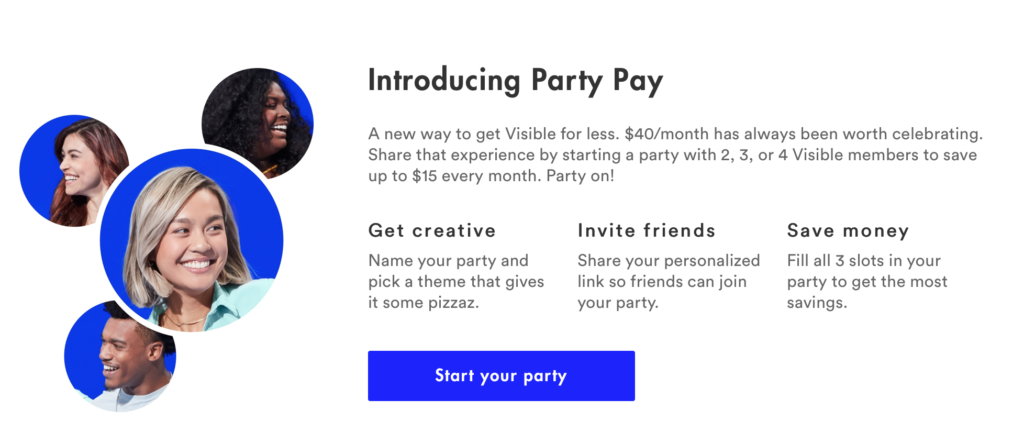 Each Visible account holder can now set up a Party, and invite up to 3 additional people to join. Party members can be new or existing customers. For each person, the cost drops by $5 per line and each gets a fully functional account with all the Visible features.
So if you have filled all 4 slots of your party, each member pays just $25 per month instead of $40.
However, unlike traditional family plans where there is a primary account holder responsible for paying the bill (and collecting from each) - each line is still billed independently. Each member of the party is responsible for making their own payment arrangements with Visible.
If they miss their payment or drop their service - all that happens is that everyone's bill goes up by $5/month until the spot is filled again.
Visible is encouraging their customers to form parties however they wish - with household members, friends, co-workers, their cat-walkers or even 'randos on the internet.'
There's no personal or billing information shared between party members, so there's little risk in joining a party. Just keep in mind that if someone leaves the party, the bill for the remaining party members will go up if the open spot isn't filled by the next billing date. So it's best to make a party with people you expect to continue with Visible and who will pay their bill.
Want to join a Party? There's a Subreddit created just for posting and/or finding open parties.
Referral Program Going Away
Previously, Visible offered a generous referral program. Each member was issued a referral code that saved a new member $20 off their sign-up costs and issued a $20 credit towards the referrer's next payment.
With the announcement of Party Pay - that referral program is going away for new members. Instead, joining a party gives you long term savings without needing to constantly refer new customers.
Existing customers however with credits on their account will still be able to redeem them, along with their new Party Pay discounts.
So an existing member with a 12-month stash of referral credits could form a party of 4 and be paying just $5/month for the next year.
Summary
Visible is again shaking up the industry with their unlimited data plan. And for RVers and cruisers needing unlimited mobile hotspot use off a smartphone - this plan remains a top pick option on the Verizon network.
There are downsides, however - such as the 5 Mbps hotspot cap, higher ping times and lower network priority. And customer service can be a pain, including initially getting service started, especially when porting numbers.
But overall, Party Pay makes it even easier to save money on an already great deal and it is a fresh approach to group plans.
Member Parties

We welcome our premium members to form parties to save money. Please post a comment below with a link to your party so that other members can join and you all save money. Once your party is full, please do post an updated reply.
Updates to this story:
Visible Now Offers 15 Day Trial of Smartphone Plan via eSIM Posted on: January 6, 2022
Yahoo! Mobile Announces Shut Down - All Service to End Before August 31, 2021 Posted on: June 17, 2021
Visible Makes Changes to Party Pay, Referral Codes, and International Calling/Texting Posted on: February 9, 2021
Visible Enables 5G Support - Verizon's 5G Network For As Little As $25/mo Posted on: December 15, 2020
Cellular Carriers Add Extra Data in Response to COVID-19 Pandemic Posted on: March 24, 2020
Verizon Launches Yahoo!Mobile - Based on Visible - Unlimited Data for $39.99 Posted on: March 11, 2020
Visible Introduces Party Pay - Reducing Cost of Unlimited Verizon Plan to As Low as $25/month Posted on: October 31, 2019
Visible Removes Speed Cap from $40/month Unlimited Verizon Plan - Mobile Hotspot Remains Throttled at 5Mbps Posted on: June 26, 2019
Verizon Based Visible $40/mo Smartphone Plan Enables Android Compatibility, Hotspot Use Official Posted on: January 24, 2019
Visible by Verizon is Officially Available to (almost) All Posted on: September 27, 2018
For some additional resources for finding your right data plans: