Last week Verizon announced new discounts for US military members including active-duty military, reservists, Gold Star families and veterans.
These new discounts apply specifically to Verizon's newest Unlimited Plans - the Three Tier Go, Above, and Beyond plans. Most older plans are still subject to typical military discounts.
---
Video Verizon of this Story:
Subscribe to our YouTube Channel
---
Specific Military Discounts
While Verizon has historically offered percentage discount to US service member and families, they have now added dollar specific military discounts to select plans.
Go Unlimited 4-Line Plan
Verizon is now offering qualified military members the Go Unlimited plan for $120/ month for 4 lines. You must have 4 lines on a Go Unlimited Plan to receive this pricing. Regularly, 4 lines of Go Unlimited is $160/month - so this represents a $10/line discount.
Go Unlimited plans are the most restrictive of Verizon's current unlimited offerings. Drawbacks include:
Always network managed
All hotspotted data is throttled to 600 kpbs
Video quality is always reduced to 480p
No international use is included on these plans

Interesting that Go Unlimited was chosen to be the 'headline discount' for Verizon Military without providing any international data! This makes this plan an especially poor option for active military members who may be stationed overseas.

Must use auto-pay & paper-free billing
Three Tier Unlimited Plan -'Mix & Match'
On June 18, 2018, Verizon introduced a new system of 'Mix & Match' unlimited data plans. This system includes 3 tiers of data plan: Go Unlimited, Beyond Unlimited, and Above Unlimited
Verizon's military discounts on post 6/18/18 unlimited plans, including Go Plans with less than 4 lines, are now:
1 phone line = $15 discount
2 phone lines = $35 dollar discount
3+ phone lines = $40 total discount
On top of being an eligible military member, customers will also need to use auto-pay & paper-free billing to qualify for these discounts.
For an in depth analysis of the Three Tier post 6/18/18 Above, Beyond & Go plan levels, see our news story: 6/18/18 - Verizon Complicates Unlimited Plans.
For a quick glance through some of the differences between the plan levels, explore the chart: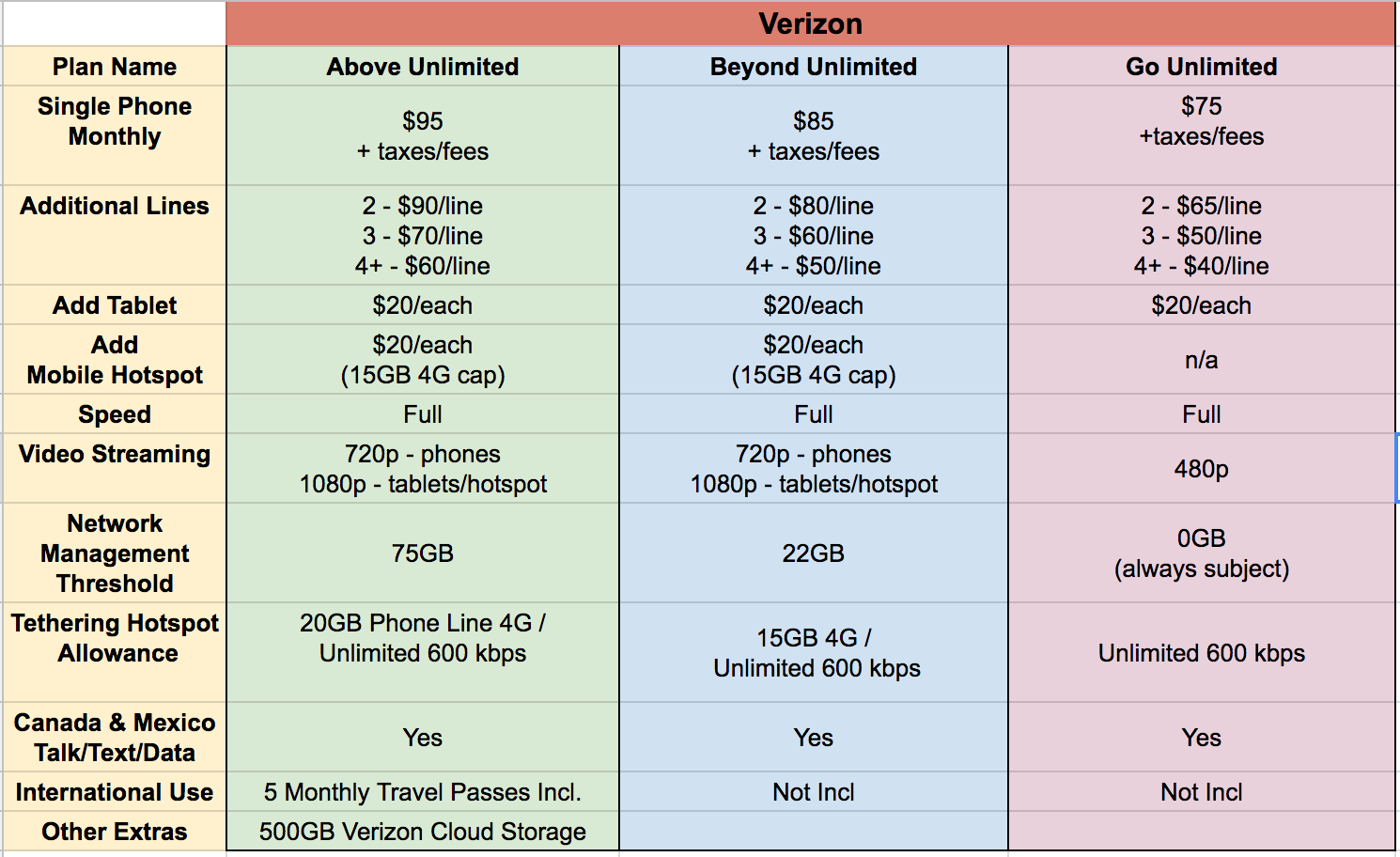 Pre 6/18/18 Unlimited Plans
Prior to 6/18/18, Verizon offered just Go Unlimited and Beyond Unlimited data plans and their. Those qualified for the military discount who signed up for Go Unlimited or Beyond Unlimited before 6/18/18 will continue to receive a $15 discount on the entire account - no matter how many lines you have.
A comparison of pre and post June 18, 2018 plans can be found in our news story: 6/18/18 - Verizon Complicates Unlimited Plans
Standard Plans
Capped data and other advertised standard plans are eligible to receive a 15% military account discount. In addition, data only plans are not eligible to receive military discounts.
Other Discounts
All qualifying military personnel are eligible to receive 25% off of select devices, like phones.
Starting on 6/18/18, and extending for a limited time, military families are also eligible to receive a $200 Mastercard prepaid card when activating a new 4G LTE smartphone on a new line of service.
Verizon's Military Discount History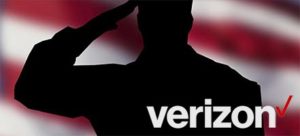 Verizon previously offered either a $15 or 15% discount on any monthly plan and a 25% discount on accessories to all government employees, active duty military members, reservists, national guardists, veterans and military families through Veterans Advantage.
In short, the only changes to Verizon's military discounts are for customers with Three Tier Unlimited (post 6/18/18) plans.
Eligibility
Eligible military members must provide one of the following:
Your work or government-issued email address
Recent paystub issued within the last 60 days
SCRA Status report
Veterans Identification Card (VIC)
Veterans Health Identification Card (VHIC)
Veterans Advantage Card (VAC)
DD Form 214 (or any other government issued, legacy discharge document)
Military Retiree Account Statement
Summary
All four major carriers offer military discounts in some form.
T-Mobile recently significantly discounted for military members one of their most popular plans, as detailed in our story: T-Mobile Offers Military Members Significant Discounts.
It is good to see carriers offering more in the way of discounts to military families and members - a trend that we hope to see continue.
Related Info: