Yesterday, Verizon announced it is extending a First Responders discount to those who hold personal Verizon plan lines, complementing Verizon's first responder and public safety plan for government agencies, which was made available to national and state contract procurement offices in August.
Starting today, customers who are state & local police, fire and EMS employees, retirees or volunteers can sign up for the Go Unlimited plan for $30 per line per month for four lines when enrolled in Auto Pay– a savings of $40 per month (plus taxes and fees). And now that you can mix and match unlimited plans for the whole family, first responders can save even more on all Verizon Unlimited consumer plans: get $15 off one line, $35 off two lines and $40 off three or more lines.
In addition, eligible active First Responders will be granted priority for data used at all times - and priority for voice use during times of national emergency.
Busy?
Just want a quick wrap-up?
---
Discounts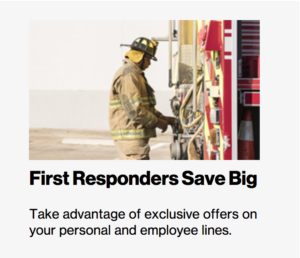 Eligible customers on postpaid mix and match (Go, Beyond or Above) Unlimited lines:
$15 off their bill for a single unlimited line
$35 off of two unlimited lines
$40 off of three or more unlimited lines
Eligible customers on other, eligible postpaid plans with a monthly access fee of $34.99 or higher
15% discount off eligible plans
All eligible first responders receive:
12% off 'select features'
25% discount off eligible accessories purchased online through My Verizon
10% off eligible accessories purchased in representative-assisted channels (In-Store, via Telesales, through Customer Service)
For more information on Verizon Postpaid Data Plans:
Eligibility
Current employees, retirees, or volunteers in the following fields are eligible for Verizon's first responder discounts:
State and local law enforcement: State Troopers, Sheriffs/Sheriff's Deputies, Local Police
State/Local First Responders: Firefighters, EMS, EMT
To prove your eligibility, you will either need to visit a Verizon store in person, or upload accepted documentation to your My Verizon account.
Via My Verizon account:
Accepted Documentation
Proof of Employment/Service Requirements:
A pay stub Customer's first and last name with visible company name and date.

Date must be within 60 days prior to the submission date

Disability/Pension pay stub/retiree statement
ID of First Responder volunteer or ID statement of volunteer service (for retired volunteers)
Revalidation
First Responders will need to revalidate their service periodically, but not more than once a year.
Restrictions
Customers on postpaid Go or Beyond Unlimited grandfathered account level plans (plans activated before 6/18/18) are not eligible to receive a discount on unlimited plans. gUDP plans are not eligible for this discount.
Prepaid plans are not eligible for discounts.
The First Responders cannot be 'stacked' with other discounts - like a military discount.
---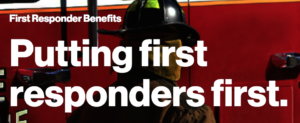 Priority
Active status First Responder personal lines, will also be considered for two priority services for their personal wireless devices - at no additional cost.
Non-active first responder lines are still subject to the same network management limits on Unlimited lines (22GB/75GB) as non-first responder discount lines.
You can check your eligibility for priority service here.
Mobile Broadband Priority (MBP)
This service provides priority network access to Verizon's 4G LTE data network, gives you higher-priority network access over other users. You must prove that you are an active status first responder to qualify for this priority.
Wireless Priority Service
This Department of Homeland Security program allows Verizon to offer voice priority access to Verizon's network during times of national security, emergency preparedness and wireless network congestion. You must be approved by the Department of Homeland Security to be eligible for Wireless Priority Service.
---
AT&T First Responders
AT&T also offers First Responder discounts - a 25% discount on their current unlimited plans, the Unlimited &More or Unlimited &More Premium. Those on Mobile Share plans or any legacy unlimited plan get a 15% discount. See our story on AT&T's First Responder discounts here for more info. And, AT&T is in the process of fleshing out FirstNet, which is described in detail, here.
---
Summary
Verizon has announced new discounts and prioritization for emergency first responders. The carrier already offered special plans for government agencies, but the new discounts apply to personal plans for first responders - not just their professional lines.
Currently active first responders may also be eligible for data and/or voice prioritization on their lines.
State and local police, fire, and EMS ad EMT workers are all eligible for the discount - whether they are current employees, retirees, or volunteers.