In a surprise move, T-Mobile announced an upgrade for smartphone customers on legacy Simple Choice plans.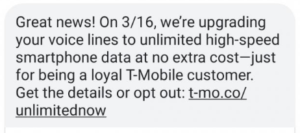 On March 16, 2019, smartphone lines on legacy Simple Choice plans will be switched to unlimited on-device data, which will replace the tiered data cap, with no price change.
Unlimited data always sounds great, but the change does come with some considerations, notably the end of the data stash feature for these lines.
And the unlimited data doesn't include unlimited mobile hotspot (MHS) and tethering use. High-speed hotspot data stays the same as the original included amount of your previous tiered data allotment.
---
Plan Change Details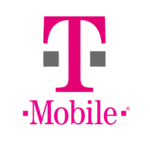 Availability: This is not an offer you can sign-up for. T-Mobile is advertising this as an "upgrade to thank select loyal customers at no additional cost." T-Mobile is contacting these customers via a text message to the primary line on the account. All voice lines on an account are eligible. We don't know how 'select' the promotion is.
One-Time Offer: T-Mobile states this is a one-time benefit for select customers' current voice lines. Additional voice lines added in the future will have the original Simple Choice terms.
Opt-Out Option: Customers can opt-out of the changes but they must do so before March 16th using this online form. Once you opt out, you can't change your mind and switch to the unlimited option unless T-Mobile offers this again in the future.
Affected Lines: This change is only for voice lines on Simple Choice plans - data only lines, such as tablets and mobile hotspots, will not change at all.
New Policies and Perks:
Price: Unchanged
Mobile Hotspot Use: Included at your plan's original data allotment. For example, if your line has a 6GB data allotment, you'll receive 6GB of high-speed MHS data after the upgrade (followed by unlimited MHS data at up to 2G speeds).
Data Roll Over: None. The previous 'Data Stash' feature goes away. Data Stash allowed customers to "bank" up to 20GB to use when needed, but that is gone with this change.
Overage Charges: No change. T-Mobile never charges overage fees. There are no overages with unlimited on-device data and once you hit your MHS/tethering high-speed data cap, you are simply slowed down to 2G speeds for the rest of the billing period.
Network Management: With unlimited data, the standard T-Mobile network management threshold of 50GB applies. However, the fine print also includes this caveat: "Smartphone and tablet usage is prioritized over Mobile Hotspot Service (tethering) usage, which may result in higher speeds for data used on smartphone."
Streaming: The "Binge On" feature remains. Binge On, when turned on, caps video streams at 1.5Mbps (usually SD/480p).

About Binge On: All postpaid Simple Choice plans with 6GB of data or more include video streaming that does not count against your high-speed data cap on partnered services (including Netflix, Hulu, Amazon Prime, HBO Now, YouTube, etc.), but at DVD-quality lower resolution. Officially, it only works on-device or when tethered to a laptop - but it can sometimes work on other devices. Binge On usage does count towards network management thresholds and is subject to slower speeds for high usage customers when on congested towers.

Domestic Roaming: No change, includes 200MB/month of domestic roaming.
International: High-speed data is US-only. However, you'll continue to have your previous limited high-speed data allotment in Canada and Mexico, up to the usual maximum of 5GB depending on your plan. All other international terms from the legacy Simple Choice plans apply.
---
Should You Switch?
If you're an existing Simple Choice smartphone customer who receives this offer, should you opt-out or take the deal?
The answer really depends on your particular usage and circumstances.
If you use (or want to use) a lot of on-device data, then unlimited data could be a huge benefit, especially for no price increase.
It's could also be a good deal for those who might be considering an upgrade to one of T-Mobile's current unlimited smartphone plans. Depending on what Simple Choice data tier you have, this unlimited offer might give you a good value and features the alternatives don't, particularly the T-Mobile Essentials plan.
The biggest downside to this change is the loss of data-stash. Many nomads kept a Simple Choice plan as a backup for this feature, which allows you to store up to 20GB of data. Those who used a Simple Choice plan this way may want to consider opting out since you can't bank data for a rainy day anymore and you'll be limited to your current monthly data allotment for high-speed mobile hotspot use.
As a reminder, this offer is only for those with voice lines - customers with the Simple Choice data-only options will not see any changes to their current plans.