A free hotspot device and a free 30GB of LTE data for a month?
T-Mobile is revisiting one of its original un-carrier moves - revamping their Test Drive program to offer just that at no cost and no need to give them your credit card info.

This offer is part of T-Mobile's 'Test Drive' program - which was first offered in 2014.
Uniquely, if you decide not to renew the data plan after you've used your month or 30GB of free data (whichever comes first), T-Mobile will let you keep the partnered hotspot device - a Coolpad Surf.
T-Mobile is targeting customers who may be wary of their network with this commitment-free offer.
"Of course, the carriers can't even get something as simple as 'try before you buy' right. They want you to trade in your phone, transfer your life to a new one and burn an entire day switching … just to hope their network works for you. It's arrogant, it's broken and it's time for backwards-buying to end," said John Legere, CEO of T-Mobile. "Our network is open for anyone to try because we have nothing to hide — can your carrier say that? At T-Mobile, the strength of our network speaks for itself … we're so confident in it, we're giving people a free 30-day test drive."
Video Version
Subscribe to our YouTube Channel
Offer Details
This is a pretty straight forward offer. If you sign-up for T-Mobile's latest rendition of Test Drive, you will receive their latest hotspot device loaded with 30GB of data - which expires after a month or when you have used all 30GB.
No talk minutes are included with the offer. 200MB of domestic roaming is included, but no International roaming is included.
After a month is over or 30GB is used, you can choose to initiate an eligible T-Mobile data plan on the device - or not, and keep the device at no charge.
Typically, T-Mobile postpaid devices are locked to their service for 40 days of service. Other unlocking criteria apply as well. We have not (yet) been able to confirm if the device will be locked to T-Mobile's postpaid network for just 40 days of service - or longer.
While some of the language on T-Mobile's Test Drive page may be a bit confusing, the 30GB/30Days Test Drive offer is statedly eligible for use in the Coolpad Surf hotspot only. We have seen some reports of the SIM card working in a phone device - and other reports that it does not.
The Test Drive plan can be activated up to a year (or more?) after acquisition of the device and plan.
T-Mobile's Current Data Only Plan Options
Until we hear otherwise, we are under the assumption that after you have used your free 30GB of data (or used as much of that as you can over a month) - and if you decide you'd like to keep using that Coolpad Surf hotspot on T-Mobile, you will need to sign-up for one of their current data only hotspot plans.
None of which are wicked appealing in terms of price per GB for T-Mobile.
But - for those seeking a bit of T-Mobile that can be used on a hotspot - they are there for you.
Currently (as of August 28th, 2019), the following plans are eligible for use with T-Mobile hotspot devices:
6GB of data for $25 ($30 w/o autopay)
10GB of data for $40 ($45 w/o autopay)
14GB of data for $55 ($60 w/o autopay)

18GB of data for $70 ($75 w/o autopay)

22GB of data for $85 ($90 w/o autopay)
How to Sign Up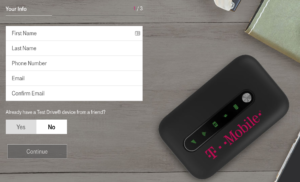 In order to participate in T-Mobile's Test Drive 30GB/30day hotspot offer, you will need to supply the company your name, phone number, home address and email - none of which T-Mobile says it will use for marketing purposes. No billing info needs to be provided.
T-Mobile is touting an easy-peasy sign-up process - and letting Test Drive patrons know that they can keep the Coolpad Surf even if they don't choose to continue data based service with T-Mobile in the future. From T-Mobile's press release:

All non-current T-Mobile customers who have not participated in a Test Drive offer within the last 6 months are eligible for this offer. There is 1 trial per customer per 6 months. Current T-Mobile for Business, Metro by T-Mobile or customers of T-Mobile partners using the T-Mobile network are not eligible for the trial.
Test Drive trial patrons can sign up for the program online or in store.
Thoughts & Analysis
It appears that T-Mobile is attempting to make a trial of the T-Mobile network as easy as possible. Providing a potential future customer the ability to trial T-Mobile without having to cut-ties with their current provider due to the need to transfer a phone number or to set up a new phone number decreases the 'too much hassle' roadblock.
But for nomads seeking data on the go - this offer is appealing simply due to the FREE nature of it.
Free 30GB of data AND a free hotspot - without a requirement to enter billing info and remember to cancel an autopay later is pretty sweet.
If you're not on T-Mobile - and haven't used a Test Drive offer in the past 6 months - you don't have much to lose.
Except for maybe 4.29" x 2.64" x ".63" of space (the dimensions of the Coolpad Surf hotspot device) if you choose not to stick with service after your 30GB or 30days of service is completed.
---
Member Exclusive Below:
Bonus Member Only Content Available!
We go extra for our premium members - who make this resource center possible (did you notice the lack of 3rd Party advertising?). We have included some additional information in this news article just for our members - analysis, guidance and/or insider tips.
If you're not yet a member, please consider joining us. Extra content like this is one of the many perks we offer - in-depth content, guidance, discounts, alerts, classroom and more.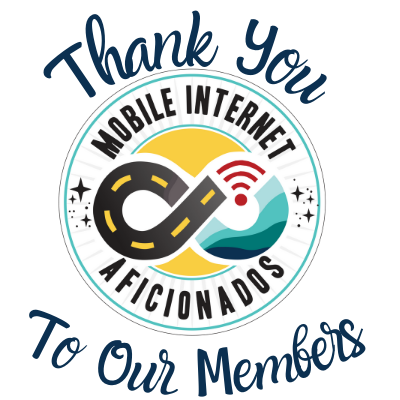 If you are already a member, please log in above to see the special content we have prepared for you.
Related Reading & Updates
T-Mobile News Stories: