Several Starlink customers that had been previously roaming away from their assigned service address received an email today that their service address had been updated automatically to better serve them. Here's a copy of the notification they received: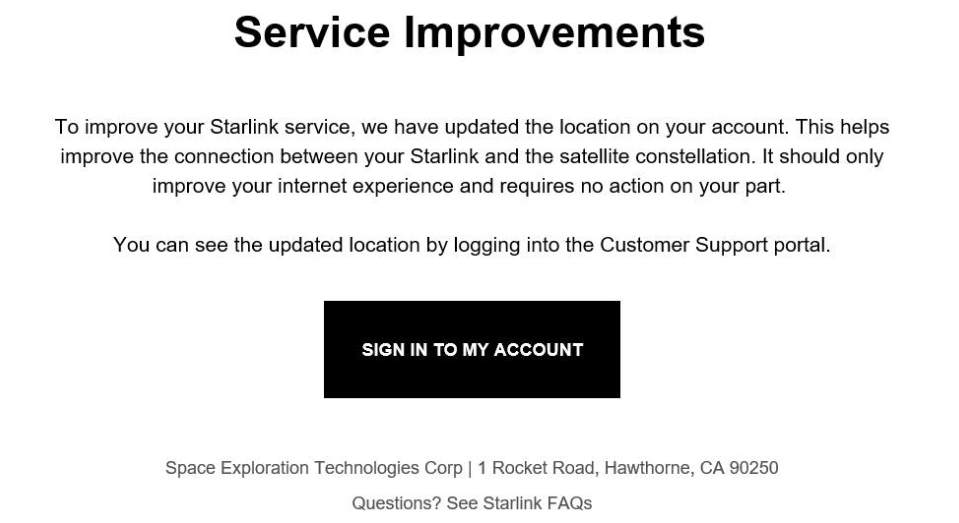 Most reports indicate that affected users had their service address in an open cell, but were currently roaming in an at-capacity cell or a cell not yet open for service. From the reports, the Starlink users that saw this switch had been roaming for several weeks or longer at the same location.
Starlink only guarantees service at your assigned service address so for many customers this was a welcome change to now have their service address updated to their actual location. The Starlink Terms of Service does note that Starlink can move your service address, but this is the first time we've seen it actually happen.
However, this potentially introduces an issue for part-time RVers that want Starlink service at a permanent location - like their home address - but still want to travel with it. The concern is that Starlink might change the service address away from the permanent location. Customers might not be able to manually move service back to their permanent address once they return, although they'd still have connectivity via roaming.
Elon Musk, the founder and CEO of Starlink, is aware of the desire for mobility and travel and lent additional support for Starlink and roaming and - in particular - being a great option for RVs and travel: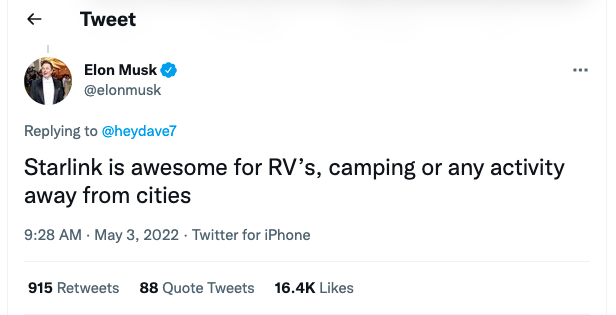 Key Mobile Internet Related Considerations:
For full-time RVers that don't need their service at a specific location most of the time, this shouldn't change much for them. They should be able to still move their service address around and roam as needed.
For part-time RVers or Cruisers that have a part-time permanent location they want their Starlink service address to be at, this could present an issue if they are roaming away long enough that their service gets automatically updated and they lose their spot in their permanent location. At this time it's not clear what the threshold away from your location is that could trigger this to occur.
For stationary users that previously couldn't move their service address and relied on roaming, this automatic change likely helped them by moving to where they are now located long-term, which now guarantees service at their actual physical location.
Video Story:
For more information:
Related Content at the Mobile Internet Resource Center:
Related Updates: