For Starlink customers with a pre-order deposit waiting on residential service, some over a year now, there is some good news.
SpaceX has introduced Starlink Best Effort service available only to existing pre-order customers where their service address is currently at capacity. For potential customers who have no other options or very poor options and have continued to wait for their pre-order, this may be just what they need to get by until they can obtain the regular Starlink service.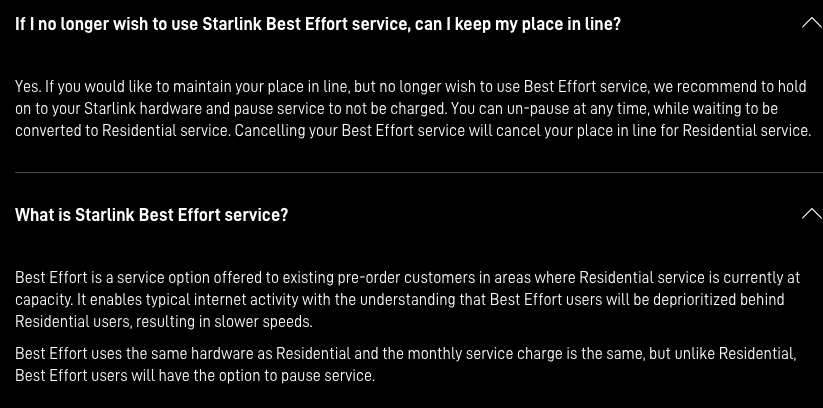 The Best Effort service is similar to the Starlink For RVs in that it is always deprioritized behind Starlink Residential, and a customer is able to get it immediately, even in areas at capacity.
Unlike the RV service however, it doesn't include the $25 portability charge so service is only $110/mo which is the same cost as the normal Starlink Residential service, just at a lower priority.
The best part about the Best Effort service though is if a customer decides to take advantage of it, it allows them have service, but also continue to hold their place in line waiting for their priority service. When their Starlink Residential becomes available, they can switch to the new service without needing new equipment unlike the Starlink For RVs that requires you to repurchase equipment.
Similar to Starlink For RVs, you can also pause this Best Effort service if you find it's not meeting your needs being deprioritized, but you are able to still remain in line until your priority service becomes available. If you cancel the Best Effort service, you do forfeit your place in line, as it is tied to your pre-order account.
Does This Plan Offer Any Advantages to a Nomad?
At this time, this new plan seems to be primarily focused on stationary users still waiting to get Starlink at a permanent residence in an at capacity area.
There's currently not much information available about other options available for the Best Effort Plan to know if it offers any advantages to our nomadic audience such as being able to add portability to this plan making it similar to the Starlink For RV's plan where you travel with it and can pause it, but also remove portability when you are at a fixed location saving you money on the portability charges.
If you could add/remove portability and stay on the plan indefinitely, the Best Effort plan positions itself between the Starlink for RVs and Starlink Residential by offering the ability to pause your service and add/remove portability while giving up priority service. That option could be attractive to some nomads, but we'll have to wait and see if that's how this plan unfolds.
We'll continue to monitor information about this plan and update our audience as we learn more, especially if we find it does become more attractive to our nomadic community.
Key Mobile Internet Related Considerations:
Only offered to existing pre-order customers in areas where Residential service is currently at capacity.
Still too many unknowns to know if this plan offers any advantages to nomads
Best Effort users will be deprioritized behind Residential users, resulting in slower speeds.
Best Effort uses the same hardware as Residential and the monthly service charge is the same, but unlike Residential, Best Effort users will have the option to pause service.
You do not have to repurchase hardware when converting to regular Residential service
Cancelling your Best Effort service will cancel your place in line for Residential service.
Video Story:
For more information:
Related Content at the Mobile Internet Resource Center:
Related Updates: