T-Mobile based cellular plans are abound this week it seems, and another deal is just announced specifically for Amazon Prime members.
MVNO (mobile virtual network operator) Simple Mobile has partnered with Amazon to offer a limited time promotion (undisclosed for how long) of 25% off their cellular phone plans. You can keep the special rates for as long as you maintain your Amazon Prime membership.
Of particular interest to nomads seeking a high data mobile internet solution is their unlimited data plan which includes to 8GB of mobile hotspot use, on device unlimited data and 480 video streaming. Regularly sold via Simple Choice for $60/month, is available now to Amazon Prime members for $45/month (plus taxes).
There are two "Truly Unlimited" Plans - the one offered for $37.50/mo does not include any mobile hotspot use.

There are also lower priced tiered data plans, that do include mobile hotspot use.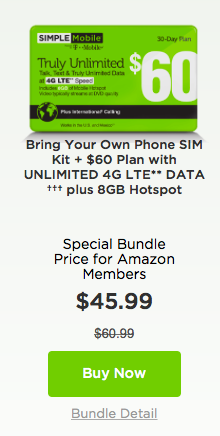 The plan includes international roaming into Mexico only (unlike other T-Mobile options that also include Canada), and does require setting up "Reup" - their auto payment program. The plans are BYOD (bring your own device), prepaid without credit check and do require the purchase of a SIM card for 99 cents.
This plan is most comparable to the T-Mobile prepaid brand MetroPCS's plan, with the same terms, also available for $60/month for a single line (taxes included).
However, for those over 55, T-Mobile just this week announced One Unlimited 55+ - their new postpaid unlimited plan for $50/month. With a $10/month upgrade, you can get HD video streaming and 10GB of high speed mobile hotspot use. For $25/month, you can upgrade to One+ International and get unlimited 4G mobile hotspot use (our recommended option for data hungry nomads).
For those under 55, the cost is $20 per month more. With T-Mobile, taxes are also included.
Here's a quick comparison:
Simple Choice / Amazon
MetroPCS
T-Mobile One+ Unlimited 55+
T-Mobile One+
International 55+
$45/mo
+ taxes
$60/mo
$60/month
(+$20 for under 55)
$75/mo
(+$20 for under 55)
480p video
8GB Mobile Hotspot
480p video
8GB Mobile Hotspot
HD video
10GB Mobile Hotspot
HD video
Unlimited Mobile Hotspot
To snag this deal, just use your Amazon Login at: Simple Choice Amazon Promo
If you're not already an Amazon Prime member, you can sign up for $99/year - which includes unlimited free 2-day shipping (fantastic for RVers and cruisers!), their video streaming services and a bunch of other perks.
T-Mobile Statement: In general for nomads seeking nationwide coverage, we currently consider T-Mobile's coverage to be ranked behind Verizon and AT&T, and not suitable as a primary carrier. However, their plans do make a suitable secondary back-up option. T-Mobile is on a fast track to expanding their network, and they are the carrier to watch right now.
For more information, including comparisons of current 'top pick' unlimited data plans on the four major carriers, see our guide to Understanding Unlimited Cellular Data Plans
Related Information: