UPDATE: T-Mobile discontinued this offer for new signups as of May 7th, 2017.
T-Mobile issued a statement to TmoNews explaining that 200MB just wasn't interesting anymore:
"When we launched Free Data For Life in 2013, 200MB of high-speed data was a lot. Today, customers want unlimited and we're all in with T-Mobile ONE. Customers who have T-Mobile ONE can add unlimited LTE data on a tablet for just $20 a month with autopay. Nothing changes for current customers with Free Data For Life on a Tablet. They can keep it as long as they like."
Do keep in mind that the "For Life" in the offer has always been for the life of the tablet, not the life of the customer.
This means customers who are currently getting 200MB per month free will continue to do so, but when they eventually upgrade to a newer tablet device the free data will cease.
Original article below:
---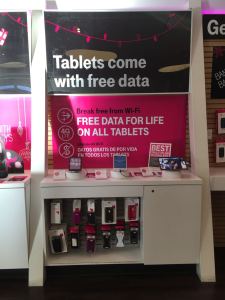 If you own an eligible T-Mobile compatible tablet, you can get free data.
For life.
With no strings attached, no monthly costs, and no contracts.
You don't even have to give T-Mobile a home address or any billing info.
All you need to do is buy a T-Mobile SIM (currently $15 plus tax), and activate your device - and then every month you will get 200MB of data to do with as you want.
You can even use it to create a hotspot and get your other tech online.
If you have a compatible tablet, you absolutely should take advantage of this offer, even if you only keep the SIM around as an emergency backup.
It seems like a simple and straightforward deal - perhaps even too good to be true.
But it is actually surprisingly difficult to get set up properly.
A lot of people have ended up surprised to discover they are being billed $10/mo charges for this "free" plan, and even T-Mobile employees have a habit of giving out incorrect information, frequently setting these accounts up wrong.
We've even been straight-up told by T-Mobile staff that "such a plan doesn't exist" unless you also have a voice line with T-Mobile.
It does exist.
Free data is real.
And we'll tell you how to get it.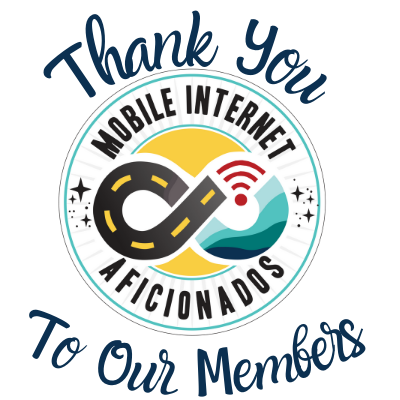 If you're a member, please log in above to access the exclusive portions of our content.
We are honored to be able to present a bunch of our content for free.
Our resource center is brought to you by funding from our premium members. We don't accept 3rd Party Advertising, we're not sponsored and we don't sell stuff.
Our members have exclusive access to in-depth content, classrooms, discounts, alerts, insider info and interactive guidance.
If mobile internet is an important part of your lifestyle, you can help make this possible:
The Pre-Paid vs Post-Paid Trap
Like most carriers, T-Mobile offers traditional post-paid cellular plans where you have an ongoing billing relationship, pay for service after you use it, and generally need to have undergone a credit check as part of signing up. T-Mobile also offers pre-paid plans that require no credit check, and generally you just manually "top off" your account with more data or minutes as needed.
The practical difference between pre-paid and post-paid plans has gotten pretty blurry - since T-Mobile no longer has overage charges or much of anything else that gets added to a post-paid bill. But behind the scenes these two types of plans are treated substantially differently. And this is where so many users have gotten burned in their attempts to sign up for free data.
You see - T-Mobile gives a $10/month discount on data plans for customers who also have a postpaid voice line with T-Mobile on the same account. So the way that "free data" tablet plans are handled for customers who have a voice line with T-Mobile is to set them up with a $10/mo 200MB mobile internet plan, which is then balanced out by the $10/mo discount.
End result - free.
This is what most T-Mobile retail employees will set up if you go into the store and ask for the "free data for life" promotion. If you mention that you don't already have a voice line - some of them might tell you it is required to get free data. Others will tell you that it doesn't matter - the end result will still be free.
They are wrong, on both counts.
If you let them sign you up for this plans and you don't have a postpaid voice line with T-Mobile, the end result will be an unexpected $10/mo bill!
And since you aren't expecting to be billed for "free" - if you ignore bills from T-Mobile thinking it is just junk mail, you might end up with months of accumulated charges that eventually get sent to collections. We know of at least one nomad who fell into this trap!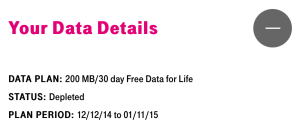 And no matter how many times you call T-Mobile and they assure you they have "fixed" the problem (and credited you back the $10 charge) - you will still get billed again the next month.
If you get signed up for the post-paid version of "free data for life" it is actually impossible to fix unless you cancel that plan, throw away the SIM, and start from scratch.
The key is making sure that you sign-up for a pre-paid mobile internet line, and that you then activate "free data for life" on that SIM.
If you do it right, you will never ever be billed beyond the $15 initial SIM purchase price.
In fact - you will not even need to give T-Mobile your billing details.
Steps For Getting Free Data
Make sure that your tablet is listed as an eligible device. Most popular tablets are supported, even if they were purchased directly from another cellular carrier. Even if your tablet is not listed, it might be worth a try - it took T-Mobile two months to update the list to include the iPad Air 2 even though it worked and was actually eligible from day one. You can request devices currently not listed as eligible be added to the list in a special T-Mobile support forum.
If you have (and plan to keep) a postpaid voice line with T-Mobile, things are easy. Just order a SIM card online or stop into a T-Mobile store, and then simply add the tablet to your account. Ask for the 200MB "Free Data for Life" promotion, and you will from now on get a $10 charge and a $10 credit on your T-Mobile bill each month.
If you want a prepaid line - you may need to be prepared to argue a bit. We've discovered even some T-Mobile store managers do not know this is an option. Do your homework first, and be prepared to be insistent. Go into the store with the tablet you want to activate.

We had to talk the clerk into looking up the details, but to his surprise he found a guide to "Pay In Advanced Activation" for the "Free Data For Life" promo.

Tell the store rep that you want a PRE-PAID SIM for your tablet, and that you want to put the "free data for life" promotion on it. If they push back and tell you that the promotion is no longer available or requires a voice line (we've heard both), tell them to "just try it" or to "search the T-Mobile knowledge base". When we did this, the T-Mobile clerk was literally surprised to find the procedure documented in the internal system after having asked the store manager and been told it was impossible.

Pay $15 (plus local taxes) for the SIM. You can pay cash or credit.
Ask the clerk to activate the SIM using the IMEI (the unique identification number) for your tablet. Once the clerk does, if it is an eligible device the 200MB "free data plan" will be automatically added and the clerk will see this appear.
You might be asked to choose an area code so that a phone number can be assigned to the SIM - it doesn't matter what you choose since the number is hidden behind the scenes. But for consistency - it is a good idea to choose the area code that matches your domicile.
Put the SIM in your tablet and test it out - you should see from the account management screen that you now have a pre-paid plan that automatically refills with 200MB of useable data each month!!!
Enjoy your free data - no bills, no strings attached!
We can confirm that as of April 2nd, 2016 this process works - and the free data promotion is still available.
If we ever hear of T-Mobile actually canceling the promotion, we will update this article.
Even Easier With An Apple SIM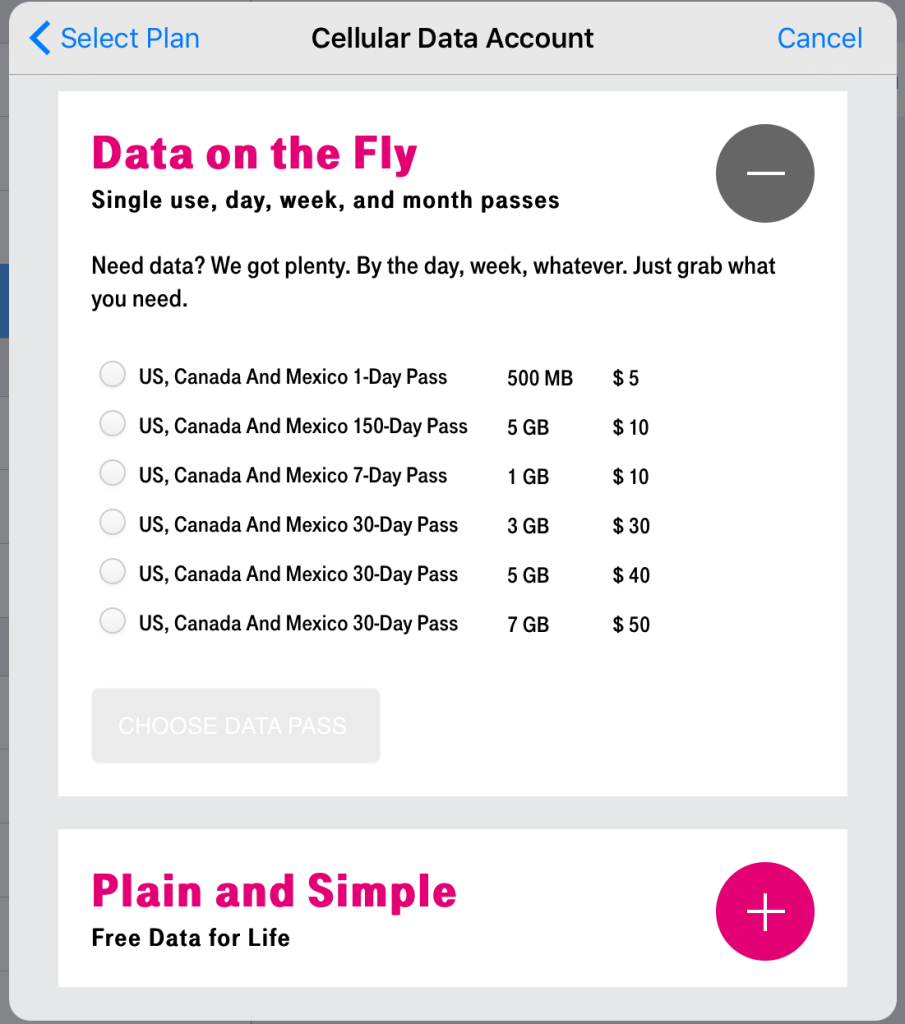 If you have a newer iPad that came with an Apple SIM, it is even easier to sign up for Free Data for Life.
This includes the iPad Air 2, Mini 3, Mini 4, and both iPad Pro models.
To activate the plan with an Apple SIM card installed, you do not need to go to a T-Mobile store. You can handle everything right on your device.
You just need to select "Set Up Cellular Data" under the Cellular Data section of the iPad Settings app, then select T-Mobile, then select "View All Plans", and you should see the "Plain and Simple - Free Data for Life" offer lurking there.
For anyone with a compatible iPad, this is a great way to easily get some T-Mobile data, and to try out the network.
The Limitations of Free Data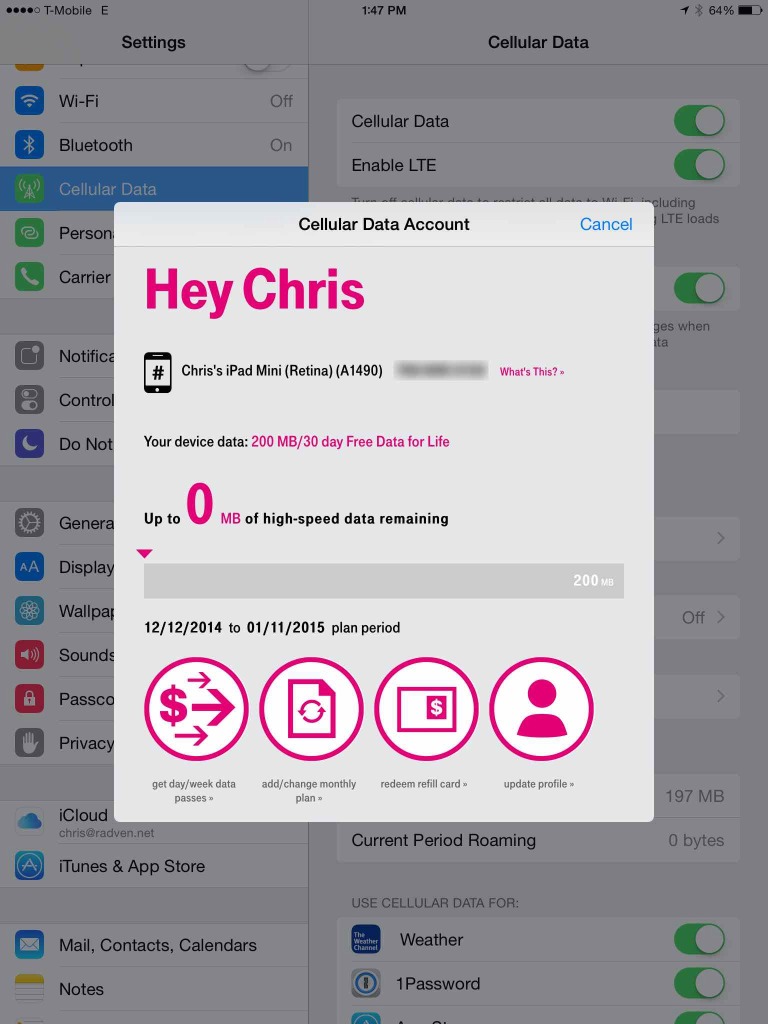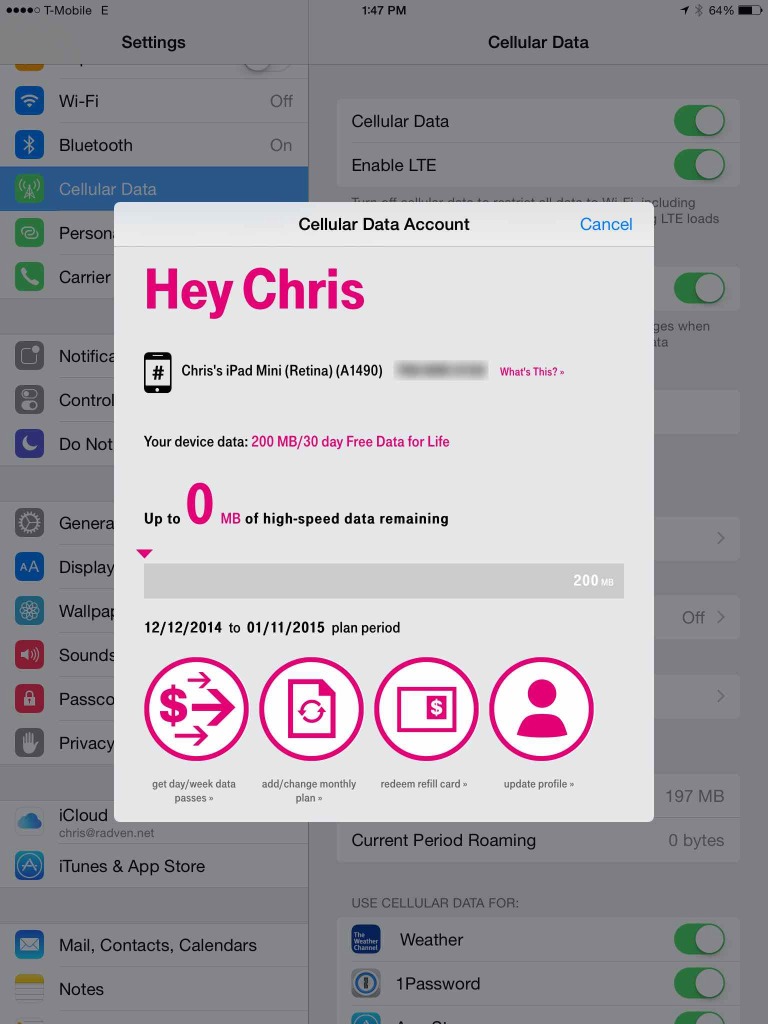 The 200MB per month of free data is really and truly free - running at full speed on T-Mobile's often blazing fast network.
If your tablet supports it, you can even create a personal hotspot and share the data over WiFi, or tether your laptop over USB.
There are however some pretty big limitations:
200MB is NOT a lot of data. Unless you are incredibly miserly, it will be gone in a flash. In fact, you could use that much data in less than a minute in some areas where T-Mobile's network is especially fast.
Data usage is capped at 200MB - once it is gone you have to pay if you want any more. Regular T-Mobile plans are not capped, and rather slow down to 2G speeds for the remainder of the month once the high-speed data allotment is used up.
There is NO domestic roaming data included - so outside of T-Mobile areas you will not get any data at all. Regular T-Mobile Mobile Internet plans include between 10MB and 200MB of roaming data per month, depending on how much data is included in the plan.
You do not get any of the other usual T-Mobile perks - there is no rollover data, unlimited music streaming, or free international roaming. These perks are reserved for paid plans only.
All T-Mobile plans get Binge On data compression turned on by default (which they claim gives you an average of 3x more streaming time), but only plans with more than 3GB of included data per month include unlimited streaming from compatible services that does not count against your monthly usage limit. The 200MB/mo "Free For Life" obviously does not meet this criteria, and I was able to confirm with T-Mobile that this plan does not get the joys of super-cheap binge-watching.
The 200MB plan is tied to your tablet - you can not use the SIM in another device and expect it to work.
Free For Life - Whose Life, Anyway?
The free data is for the life of your tablet, not the life of the tablet owner.
And indeed once the SIM is activated with a prepaid free data for life plan, it actually becomes permanently tied to the IMEI number for your tablet. It may appear to be recognized if you swap the SIM into another device, but it will not function and no data will actually flow.
If you ever want to upgrade or replace your tablet, you will need to start over with a new $15 SIM card to get the promotion again.
Getting More Than 200MB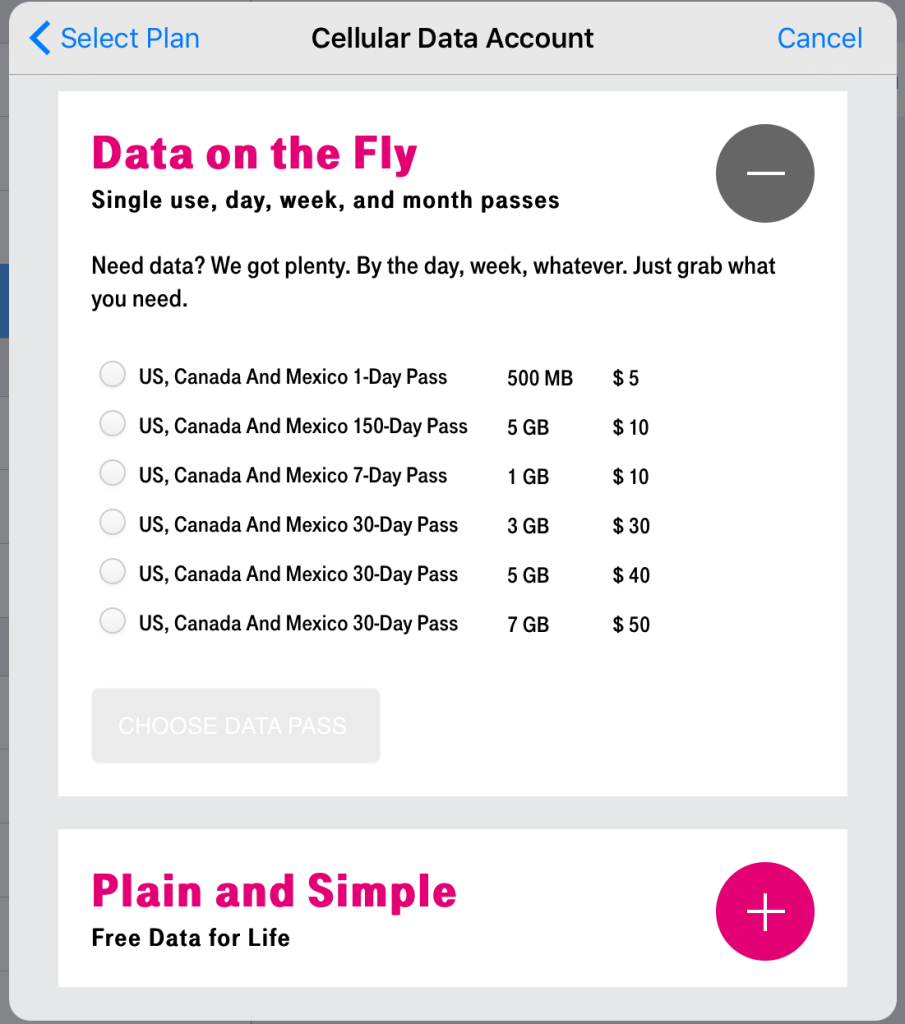 The great thing about having a 200MB T-Mobile "free data for life" SIM around is that it lets you test the waters as you travel.
If you are ever someplace where your primary AT&T or Verizon connection is letting you down, if T-Mobile has a faster and/or stronger connection you can easily buy more data as needed.
T-Mobile "On Demand Passes" include a 500MB 1-day pass for $5, a 1GB 7-day pass for $10, a 3GB 30-day pass for $30, on up to a 7GB 30-day pass for $50.
T-Mobile also has a great promotional offering underway for iPad customers when they go to sign up via an Apple SIM - allowing you to purchase a prepaid data pass with 5GB of high-speed data that does not expire for 5 months, all for just $10. This is a one-time offer, and can only be used once per iPad.
The data that comes with these passes can be used anywhere in Canada, Mexico, and the USA - and DOES include tethering.
Upgrading to a Simple Choice Plan
If you have a T-Mobile postpaid voice line, you can upgrade your 200MB "free data for life" plan to a 6.2GB/mo Simple Choice plan for just $25/mo ($35/mo - $10/mo discount). This gets you international roaming, free music streaming, rollover data, and unlimited Binge On video streaming.
If you have a prepaid "free data for life" plan, you can also convert your line from prepaid to a postpaid by calling T-Mobile support at 877-746-0909, selecting "Speak with a representative", and then telling them you want to convert to a Simple Choice plan.
They will transfer you over to the pre-paid department to get information and run a credit check. You will NOT need a new SIM or to visit a T-Mobile store, and for the moment T-Mobile is also waiving activation fees.
Concluding Thoughts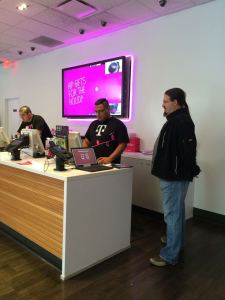 It will be years before T-Mobile is in a position to be the primary data network for most RV travelers, particularly in rural areas. T-Mobile's network coverage is just way behind the big two, even though it has been catching up.
But in areas where T-Mobile has coverage - it is very often the fastest and most reliable, sometimes blowing the other carriers out of the water. For example - we've seen T-Mobile running 10x faster than both AT&T and Verizon in downtown Portland recently.
Having a T-Mobile SIM on board gives you the ability to tap into T-Mobile's network whenever you need to. And especially if international travel is in your future - having a SIM you can upgrade to a T-Mobile Simple Choice plan before heading overseas or crossing borders makes a ton of sense so that you can take advantage of the free international roaming.
For these reasons - investing $15 into a T-Mobile SIM and a "free data for life" plan is worth the hassle. There is absolutely no reason not to do it - even if you hardly ever find yourself using the plan, it is great to have on hand.
Besides - who doesn't like "free" ???