We have and updated Product Listing page for these types of Sprint unlimited non-profit plans that will track any additional similar plans we discover:
Non-Profit Sprint Unlimited Data Plans
[/alert
(Original Article 10/2016): Unlimited cellular data for only $10 a month? That's crazy talk! Except it isn't just crazy talk, it's a real offer - for those who are eligible.
Non-profit, PCs for People, is offering unlimited mobile internet service on Sprint's 4G LTE network for low-income individuals & households who meet eligibility requirements.
On the backend, this opportunity steams from a similar plan offered via the Calyx Institute we reported on earlier.
When Sprint bought Clear in 2013, and stopped providing service in 2015 - shutting down the legacy WiMAX network entirely to make more space for LTE. Obligations behind the scenes that were attached to Clear's cellular spectrum required that discounted service be offered to non-profits remained, and the old contracts were inherited by Sprint.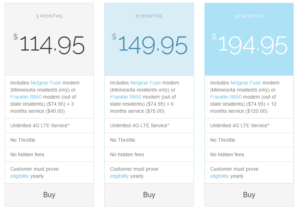 The service is made available through Mobile Beacon on Sprint's network and is touted as having 'no data caps or throttling'. The data only prepaid subscriptions can be purchased in 3 month, 6 month and 12 month increments.
This plan is, however, subject to Sprint's network management policy for it's own unlimited LTE plan. This means that customers who use more than 23GB of data during a billing cycle may be deprioritized during times and in places where the Sprint network is constrained.
Customers cannot currently supply their own device; a hotspot will need to be purchased through PCs for People.
Those who are not Minnesota residents are offered the Franklin 850 for $74.95 through PCs for People's website. Minnesota residents who are willing to visit an office are offered the Netgear Fuse hotspot for $60.
Those interested in PCs for People's unlimited 4G LTE service must provide proof that they are at or below 200% of the Federal poverty level or be currently enrolled in an income-based government assistance program. Eligibility will need to be proved yearly - which currently equates to an annual income of $23,760 for an individual or $32,040 for a couple.
While unlimited data at this price is very attractive there are factors to consider:
Sprint's LTE cellular network is in distant fourth place to Verizon, AT&T, and even T-Mobile for both coverage and reliability. This is especially true in the less-urban areas where RVers tend to roam.
This plan is LTE only, which degrades Sprint's coverage maps even further. There is no option for 'fall-back' onto their 3G network, which Sprint heavily relies on outside of urban areas.
This plan is for hotspot devices purchased through PCs for People only. The current hotspots being offered, the Netgear Fuse and Franklin 850.
Even with the above limitations, unlimited mobile internet for just under $200 per year is a pretty awesome deal.
PCs for People's director of finance, May Sorenson, states that they do not expect to be able distribute an unlimited LTE data plan on Sprint's network indefinitely. There is no current end date to this offer, but eligible recipients are encouraged to register as soon as possible.
As with all prepaid offerings, caution is advised, as offerings frequently change, often without warning.
For related Information:
Understanding Unlimited Cellular Data Plans: Network Management, Throttling & Mobile Hotspot Usage
The Four Major US Carriers- Which is Best for RVers?
MVNOs, Resellers & Prepaid Cellular Data Options – What You Need To Know
Cellular Carrier Data Pricing and Plan Guide (member only)