Mobile Internet News Center
From cellular plans, new product announcements to technology advancements - we track the industry to keep our content up to date for how news items impact mobile internet for RVers and boaters.
Our news stories are provided as a free service without annoying ads, made possible by our premium members.
Recent Mobile Internet News Stories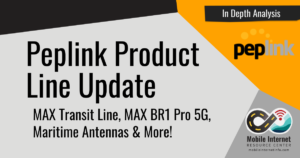 Peplink Product Line Update: Major Changes to the MAX Transit Line, MAX BR1 Pro 5G Hands-On, New Maritime Antennas, and More!
Peplink's product lineup has been going through some significant changes – with new products announced, and some old favorites being phased out. Across the board prices are shifting up – in some cases dramatically.
Mobile Internet Video Stories
Major Industry Analysis Articles