Mobile Internet

News Center
From cellular plans, new product announcements to technology advancements - we analyze industry news for how it impacts RVers, cruisers and nomads.
Our news stories are provided as a free service without annoying ads, made possible by our premium members.
Major Mobile Internet Industry Analysis & Top Stories
Recent Mobile Internet News Stories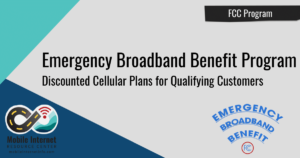 FCC's Emergency Broadband Benefit Program – Saving Qualified Households on their Wireless Data Plans
As of May 12, cellular providers are offering discounts on cellular plans to customers who qualify under the FCC's Emergency Broadband Benefit program. This is a temporary program, designed to help families who are facing financial difficulties affording wireless internet during the Covid-19 pandemic.