Mobile Internet

News Center
From cellular plans, new product announcements to technology advancements - we analyze industry news for how it impacts RVers, cruisers and nomads.
Our news stories are provided as a free service,
made possible by our premium members.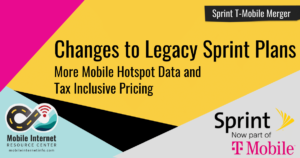 Changes Coming to Legacy Sprint Plans as Part of T-Mobile Integration
Sprint merged with T-Mobile in 2020, and customers who were on Sprint plans have been able to remain on their plans and continue to use the Sprint network while the networks and infrastructure are integrated – a multi-year process. But as part of that integration between Sprint and T-Mobile, customers on legacy Sprint accounts will begin to see some pricing and hotspot data changes to their account in early 2021.