Key Points:
T-Mobile Home Internet now offers a new 5G gateway router with external antenna ports - the first to offer that feature
The new gateway is available now but can be difficult to get.
T-Mobile recently released another new gateway router for its Home and Small Business Internet service. The new gateway is the Arcadyan G4AR, and it provides a valuable feature that is not included in the other available gateways - external antenna ports.
Like T-Mobile's other gateways, this new device is included with T-Mobile's Home or Small Business Internet service. This plan provides unlimited but deprioritized data for only $50/month, but it requires using the included gateway device with the service. While T-Mobile Home Internet (as well as the small business version) is intended for fixed locations and requires signing up using an eligible physical address, many people use this plan while mobile since T-Mobile isn't currently enforcing this provision.
With the addition of this new Gateway, there are now four T-Mobile Home Internet 5G gateways - here they are in order of release:
The Nokia 5G21 - sometimes called the "trash can."
The Arcadyan KVD21
The Sagemcom Fast 5688W
The Arcadyan G4AR
Arcadyan G4AR Video Overview
Arcadyan G4AR Gateway Specs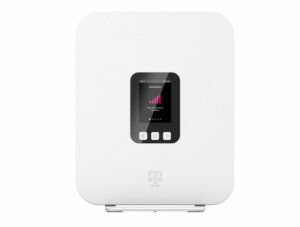 On paper, the new gateway is very similar in technical specs to the Arcadyan KVD21. Both utilize the same Fibocom cellular modem module based on the Mediatek T-750 cellular chipset. The T-750 is a popular modem for T-Mobile devices but is otherwise rare compared to Qualcomm modems, which currently dominate the cellular modem market.
Externally, this new gateway is different from past gateways - instead of a tall square or round tower design, this new Gateway is a thinner square design that utilizes a stand. The gateway also includes an optional attachment with two-sided tape to mount the device on a window sill. The thin vertical design makes this type of mounting easier than with previous gateways.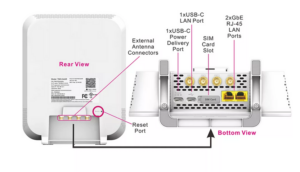 Here are the technical specifications:
5G Bands: n25, n41, n48, n66, n71, n77
LTE Bands: 2, 4, 5, 12, 25, 48, 66, 71
Wi-Fi: Wi-Fi 6 (802.11ax)
Ethernet: 2x Gigabit LAN ports
Antenna Ports: 4x SMA
Power: USB-C (Adapter included)
The supported cellular bands include all the core T-Mobile LTE and 5G bands except for millimeter wave bands, which aren't an important part of T-Mobile's network and are only deployed in a handful of dense urban areas. It also supports more bands than other gateways, including n48 and n77.
Wi-Fi 6 and Gigabit Ethernet LAN ports are standard on gear in 2023, so nothing unexpected there. Of note, there are no external Wi-Fi ports, but the device does have internal MIMO antennas for Wi-Fi.
The device is powered with USB-C, and it includes an AC adapter. There is also a second USB port on the device, but this doesn't appear to have any functionality, at least currently.
External Antenna Ports
The primary feature that excites us about this new gateway is that it includes four external SMA antenna ports. Antenna ports are great for using external antennas to improve and optimize the cellular signal, particularly in locations with more challenging signal conditions. With four ports, the Arcadyan can take advantage of 4x4 MIMO external antennas.
For more on MIMO and the benefits of external antennas, see our guide on cellular antennas.
So it's great that this new Arcadyan has that option.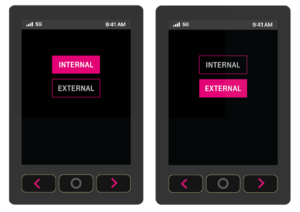 However, what's unusual is that, unlikely most routers and gateways with external antenna ports, the new Arcadyan also has internal antennas. Typically, a cellular gateway or router with antenna ports does not have internal antennas, which is why those devices all come with basic paddle antennas.
The Arcadyan, however, has internal antennas as well. However, both the internal and external antenna ports can't be used simultaneously. There is an option on the front LCD screen to switch between the two antenna options. This provides some nice flexibility.
Getting the Arcadyan G4AR Gateway
The biggest challenge can be getting this particular gateway.
T-Mobile currently has four different gateways, and several reps have told us they can not guarantee a specific gateway when ordering. We took a chance and ordered new T-Mobile Home Internet service, but unfortunately, our dice roll resulted in the Sagemcom gateway.
As I used to tell my kids when they were young - You get what you get, and you don't throw a fit.

Additionally, from reports we've read online, it doesn't look possible for current customers to upgrade to this gateway. As a result, some are canceling their current service and re-ordering, hoping to get the new device. But doing this rolls the dice and is also inconvenient.
We plan to keep trying to get a gateway to test this new device for our members and see if there is a way to get this specific device easily. So far, the new gateway is not available in stores.
As with the other gateways, the Arcadyan G4AR can't be purchased separately and is included as part of the service. It must be returned when service is canceled. Failure to return the router will result in a $370 charge.
Concluding Thoughts
We think it's great that T-Mobile finally has a gateway for its Home Internet and Small Business Internet services that includes external antenna ports.
The unfortunate downside is that this is one of four gateways, and there is no apparent easy way to get the gateway you want when ordering service. We hope that T-Mobile will eventually allow customers to select the gateway that suits their needs the best specifically.
But for those who can get one, the antenna ports will add a lot of flexibility, particularly for those who are mobile or are in challenging signal environments.
Further Reading
Related News: