As hopes for the 'perfect' mobile internet plan (i.e. low cost, fast, reliable, widespread, unlimited) continue to go largely unanswered, we can find some solace in a new offering by Netflix.
Netflix just announced an offline feature, which allows Netflix members to download a selection of their library in addition to streaming- at no extra cost.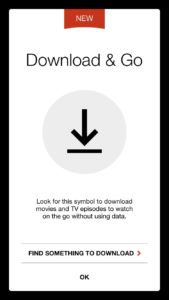 Streaming and downloading video is the ultimate data hog- usage tends to be measured in gigabytes per hour. If used wisely, the offline mode feature could provide you with solid savings in your precious data. In addition, if you plan wisely, it will allow you to watch some of your favorite Netflix shows and series while in areas with slow or limited cellular coverage.

The offline feature is available in the latest version of Netflix's app for iOS and Android devices. Unfortunately, this feature is not available for desktop use yet- it is specific to mobile devices (i.e. phones, tablets). For those wishing to view their downloaded content on a big screen, an HDMI cord might do the trick (read more about that work-around here).
Not every show or movie is available for download- likely due to restrictions in programming contracts. Titles that can be viewed offline have a 'download icon'. Customers can also browse downloadable shows and movies in a new "Available for Download" section. Once downloaded, customers can watch the videos without an Internet connection from the "My Downloads" section.
As with streaming, customers can select different video qualities that use more or less data. Downloading shows will use about the same amount of data as streaming. However, the ability to store video will help customers- especially those who rely on mobile internet sources- better manage their data usage.
Those with capped data plans or those who have unlimited data plans but are concerned about being 'flagged' as high data users may be interested in downloading media on a source of free Wi-Fi in order to avoid using cellular data. Satellite users often have very restrictive monthly data caps, but are given unlimited data for a few hours in the middle of the night. Satellite users could download shows during those unmetered hours.
Tips:
Netflix App update (11/30/16) must be downloaded.
When downloading content, make sure you are connected to the internet source you desire- more than likely, free or unmetered Wi-Fi. For added security against accidentally using your cellular data, you can change your Settings in Netflix to only allow you to watch or download while on Wi-Fi.
Downloads are in-app only, and stored on your mobile device. Therefore you will need to make sure you have ample space available. Downloading lower quality videos will save space.
If you have an unlimited cellular data plan (or spare data you want to use), adjust the app's setting to allow streaming & downloading over a cellular connection (it's off by default, and will pop up a warning if you attempt to download not connected to WiFi.)
While an offline mode feature is certainly not unheard of in the world of video streaming services (AmazonPrime, Starz and YouTube Red have offered this feature for a while now), Netflix's decision to add this option is certainly welcomed.
More Information: