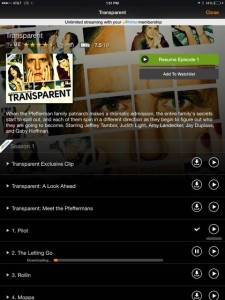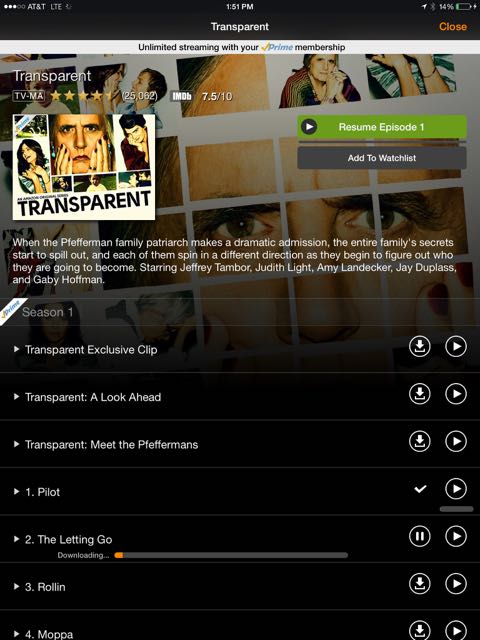 Today Amazon announced a new feature for Amazon Prime customers - the ability to download some of its Instant Viewing Video content to Android and iOS mobile devices.
Previously, the feature was only available to those using the Amazon Fire tablet.
This brings another entertainment option to RVers who are often on capped data plans that aren't ideal for streaming content.
When you have access to an unlimited data source - such as a library, hotel, friend's house or even those elusive campgrounds that allow huge file transfers - you can download content to your device to watch later.
To get access to the content, you need to:
Have an active Amazon Prime account, which costs just $99/year and also includes features like free 2-day shipping on items stocked by Amazon (a great feature for RVers who need reliable delivery).
Have an iOS (iPhone, iPad) or Android device that can run their newly released Amazon Instant Video app (iOS | Android}, and have the app installed.
Be connected to a data source suitable for downloading huge files.
Browse Amazon's 'Instant Video' listing from within the app and find titles marked for Offline Downloading. Click the 'Download' button on the title you want to select.
And of course, plenty of free space on your device to store the content.
Once downloaded, consumers will be able to watch the content within a specified number of days, which is set by the content provider. Time frames are up to 30-days.
Not all of Amazon's 40,000 Instant Viewing titles are available for offline viewing. They currently have content deals for offline viewing with CBS, Fox, MGM, Paramount, HBO, and of course their own content. They hope to strike more content deals with creators in the future.
Mobile Data Hints:
Use settings to restrict to WiFi, and select quality.

If you don't have an unlimited source of mobile cellular data on your device, be sure to use the Settings to only allow downloading while connected to WiFi. If you do have an unlimited cellular connection (or data to burn), you can download content while using a cellular data.

Quality settings: Also in the settings, you can select if you want Good (.6 GB per hour), Better (1.8 GB per hour) or Best (5.8 GB per hour) quality on the downloads. Good will be the least amount of bandwidth and storage space consumed. Amazon does not currently disclose expected file sizes for downloads, but we are assuming they are the same as streaming.
Want to watch your content on the big screen? Simply use an HDMI AV Out cable to connect your mobile device to your television or projected.
For more tips on viewing TV & Movies in an RV: