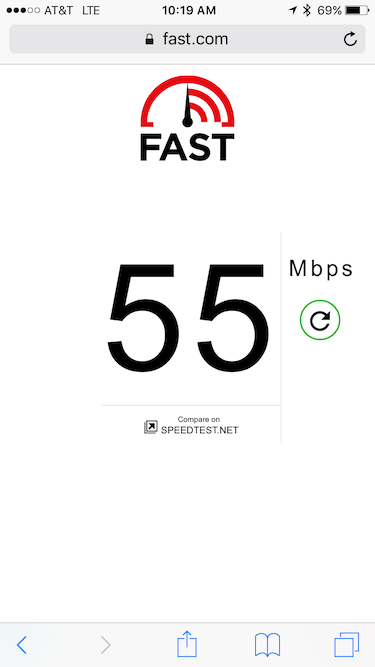 Netflix yesterday announced a new website designed to let people quickly check their internet download speeds: fast.com
Netflix explains:
"Like the cellular data controls we recently introduced, fast.com is another tool consumers can use for greater insight and control of their Internet service. Fast.com works in any country, and it is free for everyone -- whether a Netflix member or not."
The nice thing about fast.com is how simple it is - there are no browser plugins or app downloads required to get a quick internet speed check, and the website isn't encrusted with advertising like the industry standard Speedtest.net or our other browser-based favorite SpeedOf.Me.
Just go to fast.com, and a few moments later you will have a solid idea of just how fast your net connection is.
Fast.com is solely focused on measuring download speed - it doesn't calculate a ping time or measure upload speeds, and offers no other advanced testing controls, graphs, or comparison tools.
For more detail - the Speedtest.net website and apps remain the gold standard, and it is nice to see Netflix even offering a link to the other service.
But for a tool to quickly sanity check your connection - Netflix seems to have set a new standard.
We've been trying fast.com out, and are impressed. It works well in every mobile and desktop browser we have tried.
We recommend everyone dependent on ever-changing and often unreliable mobile internet bookmark fast.com - you will undoubtedly find it a useful addition to your connectivity toolbox.