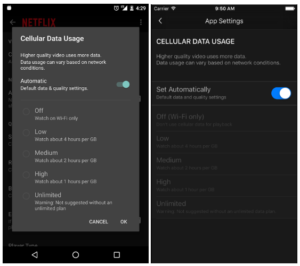 Making good on the promised May release - Netflix today rolled out a new Cellular Data Usage Controls feature that has been under limited public testing since March.
In the past - the Netflix app over cellular on most carriers throttled itself to around 600kbps, which limited streaming video resolution to 384p, well below DVD quality. But it also prevented users from blowing through monthly data caps, and on a small phone-sized screen surprisingly few people ever seemed to notice.
But for those who used an HDMI-out cable to watch Netflix on a bigger screen, the low-resolution could be frustratingly grainy - and only by using some awkward workarounds were higher resolution streams possible.
Netflix is keeping this 600kbps data rate the default over cellular, which they say should enable around 3 hours of streaming content per gigabyte of data.
But now you will have the choice to use less data, or to use a LOT more.
Netflix explains:
"The default setting will enable you to stream about 3 hours of TV shows and movies per gigabyte of data. In terms of bitrates, that currently amounts to about 600 Kilobits per second. Our testing found that, on cellular networks, this setting balances good video quality with lower data usage to help avoid exceeding data caps and incurring overage fees. If you have a mobile data plan with a higher data cap, you can adjust this setting to stream at higher bitrates. Our goal is to give you more control and greater choice in managing your data usage whether you're on an unlimited mobile plan or one that's more restrictive."
The new options let you disable cellular streaming entirely, or save even more data by switching to a lower resolution 4 hours per GB streaming rate.
But if you have data to spare, or an unlimited data plan - the new Medium, High, and Unlimited settings will burn through your data plan at 2 hours per GB, 1 hour per GB, or with Unlimited enabled you can stream 1080p HD video at a plan-devouring 3GB per hour pace!
Over time these default rates may change - and of course the data rate will be dialed down to match your current connection speed to avoid buffering too. Netflix is careful to note that:
"We are always working on ways to improve picture quality while streaming more efficiently, so bitrates could change over time. As with all streaming, actual data usage can vary based on your device capabilities and network conditions."
We applaud Netflix for rolling out this feature. Anything that gives users more control over their data usage is great in our book!
Adjusting Cellular Data Usage
The new Cellular Data Usage feature is enabled in the updated version of the Netflix app that went live in the iOS and Android app stores earlier today. We have tested it, and it seems to work great.
To change your settings away from the default - select "App Settings" from the Netflix menu, and pick "Cellular Data Usage."
Then you can switch away from the automatic default, and select a higher or lower data usage setting as desired.
Cellular Only - NOT Wi-Fi / Hotspot Applicable
This new feature applies ONLY to direct streaming over cellular on a phone or tablet.
If you are connected to Netflix via a laptop, set top box, or via a phone or tablet connected via Wi-Fi (even if there is a cellular hotspot in the mix), the Netflix app will ignore these settings and will instead use as much data as possible - subject to your global Netflix streaming settings.
If you have selected a streaming limit in your global Netflix account settings, on mobile devices your usage will not exceed this limit - no matter what the Cellular Data Usage setting is set at.
More Information: