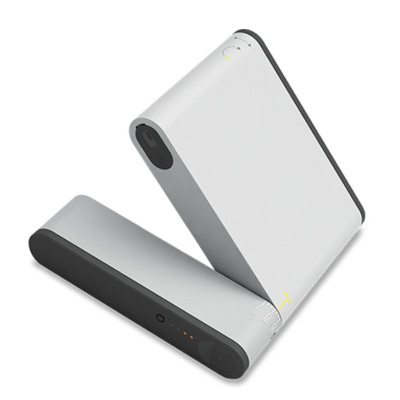 If you are more interested in basic connectivity around the world rather than broadband speeds and bulk transfers, Inmarsat's BGAN (Broadband Global Area Network) is a potentially interesting option
BGAN service covers the entire planet, other than the poles.
Rather than a big bulky dish and separate modem, a complete BGAN satellite system is about the size of a laptop computer – and it does not need to be carefully aimed and can usually be set up in a matter of minutes. Any Wi-Fi capable device can connect to it to get online.
The BGAN network by Inmarsat is generally aimed at providing global services to merchant maritime fleets, airlines, enterprise commercial and government applications.
However their IsatHub service is aimed more at individuals and small businesses.
The basic consumer grade IsatHub terminal Wideeye iSavi by Addvalue costs around $1,200 – and is capable of "broadband" speeds of just 384Kbps down and 240Kbps up.
Download speeds of 384Kbps are not enough to even dream of streaming YouTube, but it is plenty for checking email and some basic old-school super-slow web surfing.
Faster, fancier, and more rugged enterprise level BGAN terminals go way up in cost – but even the highest end plans and radios top out at less than 512Kbps.
Data Plans
But it is the data costs that will kill you. On the consumer InstaHub plans, you can pay $220/year for a stand by plan that then charges by usage at $3.85/MB ($3,850/GB!), and phone calls at $0.99 per minute.
Monthly data plans are also available starting at $99/month for 50mb to $1,660/month for 1000mb of included data, and they even offer an unlimited data plan at $4,555/month.
The key to using BGAN is extreme data-usage management .. or lots of income.
---
Review & Testing Status
We do not intend to obtain a setup to test.
---
Potential Alternatives to Consider:
For other featured mobile satellite options:
Learn More About Mobile Satellite Options
---
More Information Available to our Members

We are honored to be able to present the above overview for free without 3rd party advertising.
In thanks for funding this resource center our members have access to any further notes, analysis, insider info, member experiences and/or our full in-depth review of this product or offering.
If you're a member, please log in above to read the review.
Additional Reading
Related Articles
Related Guides
Purchasing Options
The guides below have been hand-picked to help further your education about mobile satellite: