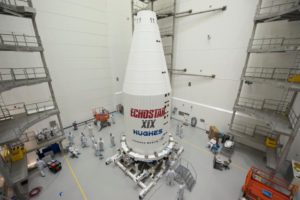 On Sunday afternoon, the long awaited EchoStar 19 satellite built for HughesNet launched from Cape Canaveral Florida after a few delays.
The launch is exciting news for RVers awaiting the next potential viable option for mobile satellite internet. In Summer 2015, RTC Communications announced they were working with HughesNet to allow mobility with their KA-band spot beam satellite technology.
Long time RVer focused MobileInternetSatellite.com had in turn worked with RTC and Hughes to bring the option to RVers with their tripod mount system.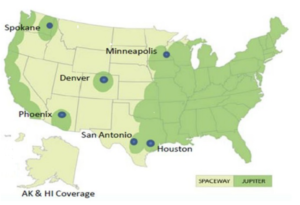 However, that service up until now has only covered the eastern portion of the US and some spots in the west. Leaving out many popular remote locations RVers love to go.
Once activated and online hopefully by Spring 2017, the new EchoStar 19 will complete the Jupiter coverage map - providing nationwide coverage with up to 15mpbs down speeds.
Details of the plan offerings and how & if this HughesNet solution will continue to be available to RVers remains to be seen. We'll be keeping an eye on it, and we recommend joining the MobileInternetSatellite Forums and contacting them to get on their announcement list.
For those interested in mobile satellite options, we just recently hosted a member webinar overviewing the topic and published an updated in-depth guide to Satellite Options for RVers.
Also, Campskunk, a blogger for Roadtreking, has been testing this solution for the past year and saw the launch from Cape Cape Canaveral.