Globalstar has a constellation of 40+ satellites 880 miles up, and has long been a provider of satellite telephone service.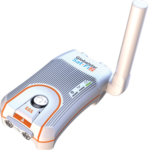 Globalstar offers two different satellite receiving devices:
Before you rush to sign up for this perfect-sounding solution...
The catch with SatFi is that the data speed is 9.6Kbps (vintage mid-1990s modem speeds), and the included data only covers basic email, weather updates, SMS text messages, posting to FaceBook and tweeting on Twitter (not reading), super compressed photos, and very little else.
Up to 8 Sat-Fi users will be able to connect to a single unit at a time.
The plans are quite expensive.
Specifications:
Testing Status
We do not intend to obtain a setup to test.
---
Potential Alternatives to Consider:
For other featured mobile satellite options:
Learn More About Mobile Satellite Options
---
More Information Available to our Members

We are honored to be able to present the above overview for free without 3rd party advertising.
In thanks for funding this resource center our members have access to any further notes, analysis, insider info, member experiences and/or our full in-depth review of this product or offering.
If you're a member, please log in above to read the review.
Additional Reading
Related Articles
Related Guides
Purchasing Options
The guides below have been hand-picked to help further your education about mobile satellite: