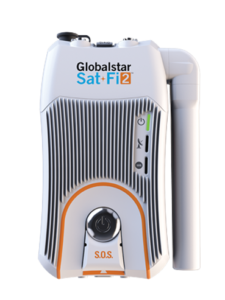 Globalstar has a constellation of 40+ satellites 880 miles up, and has long been a provider of satellite telephone service.
Globalstar offers a Sat-Fi2 Satellite Wi-Fi Hotspot.
As of 2/18/20, Globalstar is currently offering this limited-time promotion on the Sat-Fi2:
Unit price is $249 (normally $499)
Unlimited Voice & Data for $50/mo (with the purchase of a Sat-Fi2)
Before you rush to sign up for this perfect-sounding solution...
The catch with the Sat-Fi2 is that the data speed is up to 72kbps, and the included data only covers basic email, weather updates, SMS text messages, posting to FaceBook and tweeting on Twitter (not reading), super compressed photos, and very little else.
Up to 8 Sat-Fi users will be able to connect to a single unit at a time.
The plans are quite expensive.
Satellite options like this are best thought of as a supplement to cellular in extremely remote conditions, and not as a do-everything replacement.
But depending on your needs - you can use a Sat-Fi2 to get a call out, do some text messaging, and even for some email (primarily text only - no images or attachments) -- just about anywhere in the United States.
Specifications:
Main Function: Basic Satellite Communicator
Satellite Network: Globalstar
Battery Life: 2 hours of talk time, 6 hours stand-by (28 hours on hibernation mode)
Weight: 12.6 oz
Dimensions: 1.5'' x 2.9 '' x 5.8''
Waterproof: Water 'resistant'
GPS Location: Yes
Retail Price: $499 (sometimes reduced to $249)
Testing Status
We do not intend to obtain a setup to test.
---
Potential Alternatives to Consider:
For other featured mobile satellite options:
Learn More About Mobile Satellite Options
---
This Review Contains Additional Member Exclusive Content!
We are Honored to be Member Funded!
No ads, no sponsors, no selling (but may contain affiliate links)
Our members fund our in-depth independent reviews.
This entry may contain additional member exclusive content such as testing notes, field testing data, user interface tours, comparisons to alternatives, analysis, tips, videos and discounts.
Members also get interactive guidance, alerts, classroom and more.
Additional Reading
Related Articles
Related Guides
Purchasing Options
The guides below have been hand-picked to help further your education about mobile satellite: