Globalstar has a constellation of 40+ satellites 880 miles up, and has long been a provider of satellite telephone service.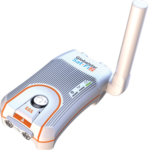 Globalstar offers two different satellite receiving devices:
Before you rush to sign up for this perfect-sounding solution...
The catch with SatFi is that the data speed is 9.6Kbps (vintage mid-1990s modem speeds), and the included data only covers basic email, weather updates, SMS text messages, posting to FaceBook and tweeting on Twitter (not reading), super compressed photos, and very little else.
The plans are also comparatively quite expensive.
Testing Status: We do not intend to obtain a setup to test.
The Rest of this Review is:
Member Only Content
We are thrilled & honored to be primarily member & reader funded - allowing us to present unbiased content. The in-depth review section of this product listing is part of the premium membership benefits of joining. Members can also leave their own reviews on products.
If you're a member, please log in above to read the in-depth review for this product and/or leave your own review. If you've not joined yet, learn more about membership at:
Purchasing Options
Globalstar Ratings
Quick Take
The data speeds are so slow that you would never be able to interactively surf the modern web. But it you have extremely low bandwidth needs or are primarily voice-centric – this is actually a very affordable option.
Comments Rating
( reviews)