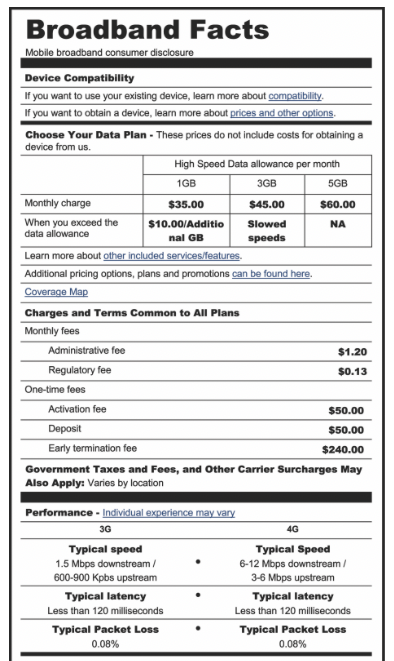 Comparing the ins and outs of data plans can be a daunting task. But a new FCC program may (eventually) make that task a little earlier.
The idea is to provide a "nutrition" label, similar to what you see when you look at food packaging, that will help you understand exactly what is being offered by internet providers.
This concept was first presented in 2016, but never came to fruition. However, the Consumer Broadband Label was included in the recent infrastructure bill, and the FCC could potentially have it in place as early as later this year.
While the details are still being worked on, these "nutrition" labels could include things like monthly data limits, equipment costs, speed performance limits, and network management thresholds. An example from the FCC's website of what these labels might look like is shown at right.
These labels will be designed for home-based broadband internet as well as mobile internet.
The FCC has indicated that these labels will appear at "points of sale" but some of the specifics are still being hammered out as to how and where the information will be presented and available.
The FCC is requesting feedback about what other information would be useful to consumers on these labels. Information about to submit your feedback is below.
Key Mobile Internet Related Considerations:
Consumer Broadband Labels could make comparison shopping for data plans easier.
For more information:
Content Updated at the Mobile Internet Resource Center:
Related Updates: