Key Points:
SpaceX and Dish are both fighting for spectrum rights in the shared 12 GHz band, which is currently the spectrum the Starlink customers use to download content from Starlink satellites in space.
Dish wants to expand its terrestrial 5G cellular service to use the 12 GHz band, and claims doing so would not negatively harm current spectrum users like SpaceX.
SpaceX claims if Dish is allowed to move forward with its plans, Starlink customers risk harmful interference more than 77% of the time and may experience total outages 74% of the time - making Starlink unusable for most Americans.
Both companies have submitted analysis of their plans with studies in their favor to the FCC.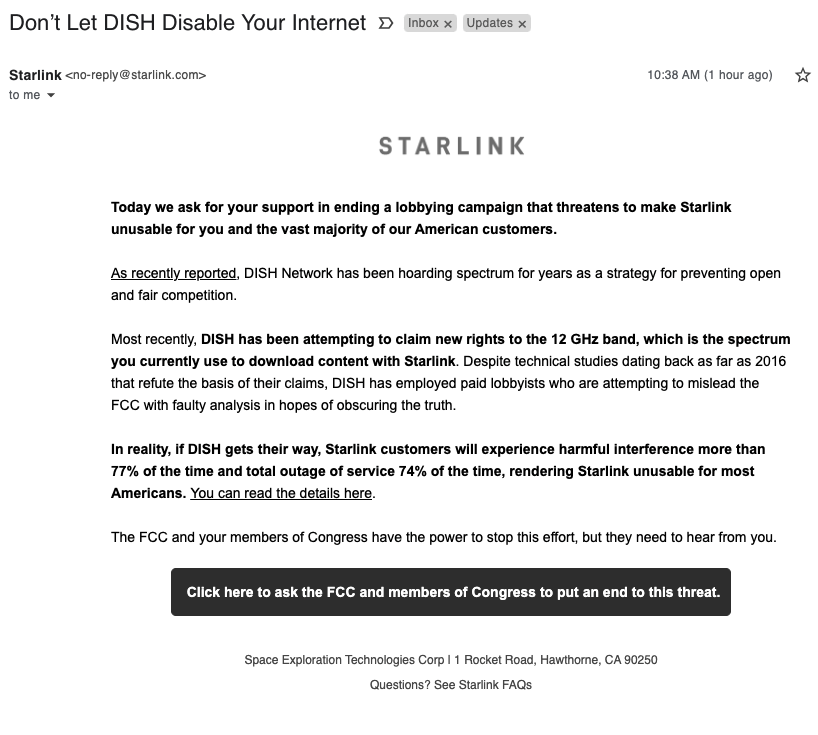 SpaceX has sent out a mass email to its entire Starlink customer base urging customers to call and mail Congress to protest Dish's 5G expansion plans into the 12 GHz spectrum.
In its email to customers, SpaceX claims that Starlink service could be drastically affected for many Starlink customers if the FCC allows Dish to expand it's 5G cellular service into the 12 GHz spectrum.
Dish counters that Starlink will be minimally impacted, and Dish has been lobbying the FCC for years for approval to turn the 12 GHz spectrum into a massive future expansion of its 5G network.
Both companies are ramping up lobbying and PR efforts to try and get the public on their side.
So what is the real story here?
Dish vs Starlink Video
The 12 GHz Spectrum Controversy
The 12 GHz spectrum Dish wants to use (from 12.2 GHz to 12.7 GHz) has traditionally been shared by many satellite operators - and multiple companies have licenses to use this spectrum from satellites in orbit, and so far satellite operators have a good track record of effectively sharing this spectrum without interfering with each other.
The 12 GHz band has also long been licensed for terrestrial use for "Multichannel Video and Data Distribution Services" (MVDDS) - basically satellite TV broadcast from ground-based towers. Very few systems using this technology have actually been deployed, but Dish network is the largest holder of spectrum rights for terrestrial use of this band.
Dish is seeking FCC permission to repurpose the one-way MVDDS licenses into two-way 5G cellular licenses - and this is when things get complicated.
Suddenly instead of one single MVDDS transmitter per city - there might be thousands of cellular base stations, and hundreds of thousands of potential mobile devices all broadcasting over 12 GHz.
And SpaceX and other satellite operators are concerned - all these ground-based 12 GHz transmissions have the potential to overwhelm the 12 GHz signals coming down from satellites far overhead.
Or maybe not - depending on which technical analysis you believe.
In the past few weeks both Dish & Starlink have sent letters to the FCC in support of their case, in what is an increasingly competitive battle over this shared bandwidth in the 12 GHz spectrum.
We have linked those studies below - in case you want to get geeky.
What Interference Will Happen?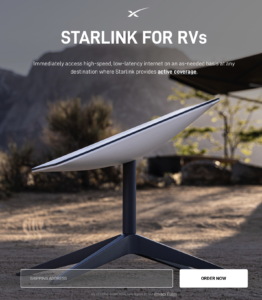 Dish's claim is that terrestrial and satellite usage of this band can co-exist on the shared spectrum, and that a simulation they conducted in their study shows that a minimal number of Starlink User Terminals would be subject to possible interference.
SpaceX counters with its own analysis disputing many of the assumptions in the Dish-sponsored study.
In particular - Dish assumes that most Starlink terminals will be in use in remote rural areas far from urban and suburban 5G towers, and thus protected from interference.
SpaceX counters that these assumptions are unreasonable, and that users within a 13 mile radius of 12 GHz cell towers would be impacted with extreme disruptions.
According to SpaceX - current Starlink deployments are 17% urban, 37% suburban, and 46% rural - vastly different than the 1% urban assumption that Dish was making.
SpaceX clearly does not want to have Starlink pushed out of being able to compete in urban and suburban areas - and certainly many Starlink customers with service portability or RV service would be upset if their Starlink service only worked in the most rural and remote areas and not near cities.
Dish Has a Poor Track Record
In SpaceX's letter to the FCC, it points out that next generation satellite companies are spending billions in research and development and have been moving at an incredibly rapid pace to give more Americans than ever before access to high speed internet.
On the other hand - SpaceX points out that Dish has failed to fully utilize spectrum it has already had available to them for decades - and their track record shows they have failed to innovate and make full use of what they already have.
The core SpaceX argument - does it really make sense to give Dish potentially disruptive control of even more spectrum, before Dish has fully demonstrated it can take advantage of what it already has?
Decisions Soon - Impacts Years Away
The FCC will be making decisions soon that will potentially pave the way for 12 GHz to become a 5G cellular band in the future - so until those decisions are made, expect the lobbying and fear-mongering to get increasingly hot and heavy.
But even if the FCC authorizes 5G over 12 GHz - it will take years before a 12 GHz 5G band is officially defined and incorporated into the 5G specifications, and it will take even longer for compatible equipment to come to market.
So there are not likely to be any actual interference or direct consumer impacts anytime soon.
But if you want to have your say - you can align with Team SpaceX or Team Dish via the following lobbying efforts:
Further Reading
And here is all of our recent Starlink coverage: