Dish Network's Project Genesis - a new 5G cellular network - may finally be close to its first debut after several delays.
The Project Genesis website launched back in mid-2021 but has just been a placeholder to collect zip codes, email addresses, and phone numbers of potential future customers. Genesis had announced that its 5G network would first debut in a commercial test launch in Las Vegas in 2021, but that target date was missed.
This week Genesis sent out an email suggesting that the Las Vega launch might be happening soon, although a specific date is not yet available: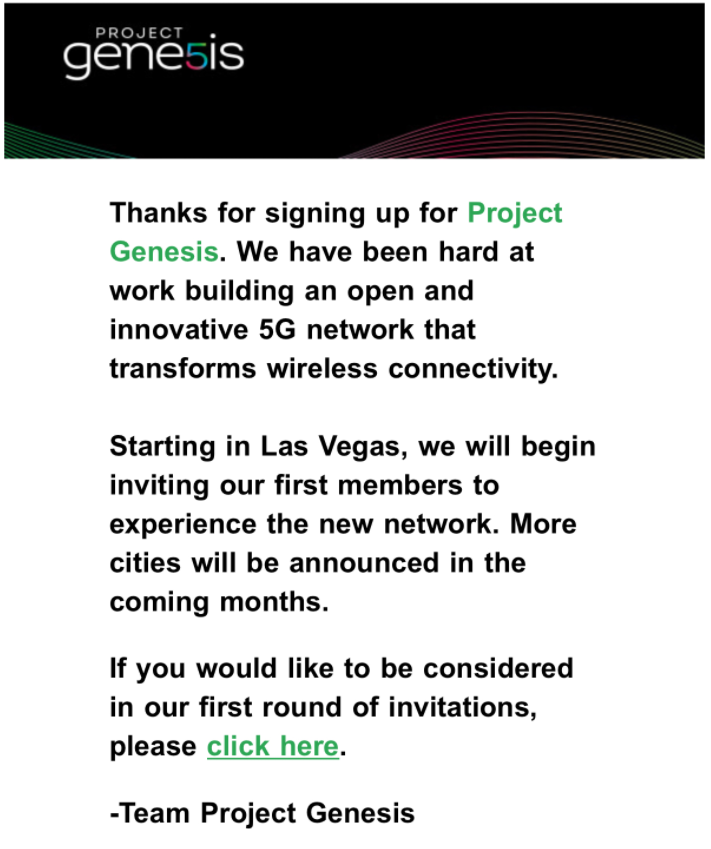 Key Mobile Internet Related Considerations:
Project Genesis is the name for Dish Network's upcoming 5G network and was born out of the merger agreement between Sprint and T-Mobile.
The Las Vegas debut will be followed by rollouts in other cities later in 2022.
Project Genesis is attempting to build a 5G network from scratch and it will be a long time before they have anything close to nationwide coverage.
For more information:
Related Content at the Mobile Internet Resource Center:
Related Updates: