Does Starlink have a smell to it? According to a couple tweets by Elon on June 18th, 2022, he apparently thinks it should at least be named something that convinces people to change the default Wi-Fi SSID from Starlink to something else.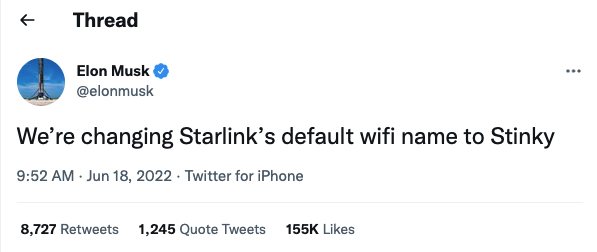 The first tweet started off that they were changing the Starlink default Wi-Fi name to Stinky.
In another Tweet Elon commented "If you can't smell your wifi, how do you know it's real?"
Elon seemingly joked this change would encourage people to change Wi-Fi name to something else.
While many suspected the couple tweets by Elon around the subject to rename Starlink Wi-Fi to Stinky was just a joke, it appears a month later it has become a reality and Starlink really is setting your default Wi-Fi SSID to STINKY!
Some users may see the humor in this, but perhaps others may not find it so funny after a factory reset and not being able to find a default Wi-Fi named STARLINK, but rather one named STINKY.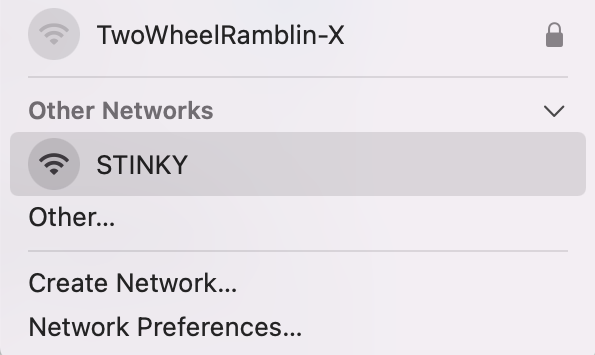 This is a PSA that if you factory reset your Starlink router or your power blips 3x times in row, which can unintentionally reset the router, you will probably be looking for a default Wi-FI called STINKY now.
Once your router comes online, connect to the STINKY Wi-Fi and quickly change it to something a little less foul. Hopefully you are able take command of the stinking Wi-Fi to regain your internet connection and boot the reeking SSID to the curb.
Key Mobile Internet Related Considerations:
This does not affect routers already setup unless they are factory reset.
If you are bypassing the Starlink router, this won't affect you unless you factory reset it.
If your router is factory reset (plugged/unplugged 3x), look for the name STINKY.
If you already had your Starlink SSID setup prior to the factory reset, rename your Wi-Fi to exactly how it was before with the same password and then your devices will automatically reconnect.
Video Story:
For more information:
Related Content at the Mobile Internet Resource Center:
Related Updates: