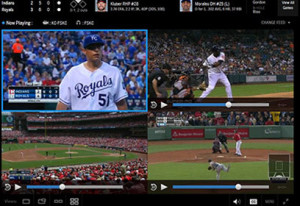 A lot of RVers are baseballs fans, but one of the challenges of life on the road has always been catching your favorite team play while you are far away from home field.
The odds of catching your favorite team on local TV where you happen to be is slim, satellite TV is often troublesome (and the TV sports packages are expensive), and streaming a game online will burn up data in a heartbeat.
T-Mobile's Binge On has included streaming MLB.TV without using up any data since the beginning as a free streaming partner, but buying access to games is expensive at $110/year.
But not this week.
To celebrate the start of baseball season, T-Mobile and Major League Baseball are offering a special promotion that may make the cost of a basic T-Mobile plan worth it for many fans, just to scratch your baseball itch.
Here is the deal:
T-Mobile Simple Choice customers on qualifying plans can sign up during Opening Week, April 3-10, to get a full, free year's subscription to MLB.TV Premium – a $109.99 value – and watch every out-of-market regular season game live on their T-Mobile devices. With 2,430 games in the regular season, that's over 7,000 hours of streaming baseball you can Binge On – on America's fastest 4G LTE network – without burning up any of your high-speed data. For the 2016 season, MLB.TV Premium also comes with a free subscription to At Bat Premium, the No.1 selling sports app in the Apple App Store (a $19.99 value), together with great features, including your choice of home or away broadcasts, multi-game viewing and more.
NOTE: MLB.TV games are subject to blackout based on your billing zipcode, so be careful what home address you sign up under or you might miss out on your favorite games live. (See update below...)
Post-season games and blacked out local games can not be streamed live, but the live audio feed will be available, and the archived video will be available 90 minutes after the game ends.
UPDATE: We tested MLB.TV streaming today, and the blackout restrictions are based on your current geolocation (as determined by GPS or network lookup), and not your billing zipcode. So when you are away from "home" you will have no trouble at all streaming your home team.
Stream Me Out To The Ballgame

You need to be connected via T-Mobile to sign up for the free subscription to MLB.TV - but once you do you can watch as much baseball as you can handle on any device you own, including Apple TVs, Rokus, various gaming consoles, computers, and more.
You do not even need to be connected to T-Mobile while you are streaming - so once you are signed up you can stream for free via a Verizon or Sprint or AT&T Unlimited plan, and of course streaming is free on all T-Mobile plans as well via Binge On.
If you do the math - you are getting $130 worth of baseball perks by signing up this week. And with the cheapest T-Mobile Binge On compatible mobile internet plan costing just $35/mo, you can think of it as buying baseball streaming - and getting 4 months of T-Mobile free.
Even if you are just a casual baseball fan, this is a pretty sweet deal - and totally worth jumping on.
To sign up (before April 10th!) - go to T-Mobile's MLB page.
Updates/Further Info: