UPDATE (December 4th): Coming Soon??
Despite announcing back in October that the launch of AT&T's mobile 5G service would be "in the next few weeks" - AT&T has been running out the clock without sharing any further details.
But today, as part of announcing intentions to bring out a 5G compatible Samsung phone sometime in the first half of 2019, AT&T revealed that they are still on track to bring out the Nighthawk 5G by the end of this year.
Here's is AT&T's update:
As of today's announcement, we've installed the latest mobile 5G network equipment in areas in the 12 markets where we plan to make 5G available in 2018. We're also on track to offer the world's first mmWave mobile 5G device this month. Cities where we plan to make standards-based mobile 5G service available this year include Atlanta, Charlotte, N.C. Dallas, Houston, Indianapolis, Jacksonville, Fla., Louisville, Ky., Oklahoma City, New Orleans, Raleigh, N.C., San Antonio and Waco, Texas. We plan to expand service in the first half of 2019 to parts of 7 additional cities, including Las Vegas, Los Angeles, Nashville, Orlando, San Diego, San Francisco, and San Jose, Calif.
Hopefully we will finally get more details on the device and the data plan soon, and perhaps a few lucky customers will even find a 5G hotspot under their Christmas trees.
The original story continues below.
---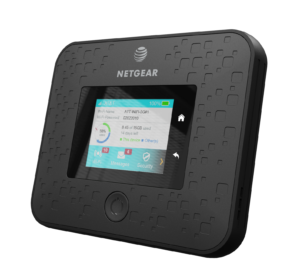 On Friday October 26th AT&T announced that it had completed "The World's First Millimeter Wave Mobile 5G Browsing Session" the night before.
In other words - someone had surfed the web via an actual mobile 5G device.
A little web surfing might not sound particularly groundbreaking, but this is a pretty significant step towards the 5G cellular future.
And in making this announcement, AT&T has given us our first look at what is likely to be the world's first 5G mobile hotspot - the Netgear Nighthawk 5G.
AT&T boasted that they have gone from experimental test gear to real hardware in just over a month:
"Last night's historic session was also completed in Waco, but this time the browsing session was on what will be a commercially available 5G device – the NETGEAR Nighthawk 5G Mobile Hotspot. This is the first standards-based mobile 5G device in the world able to access a live millimeter wave 5G network."
So when will AT&T bring this to actual customers?
Busy?
Just want a quick wrap-up?
---
Video Version of this Story
Like video updates? Subscribe to our YouTube Channel
---
When Will This Nighthawk Land?
The Nighthawk 5G looks to be a literal bigger brother to our current top-pick AT&T hotspot, the Netgear Nighthawk (our review).
Hopefully it will feature a gigabit ethernet port, and all the other features that make the current 4G Nighthawk a favorite.
But for now we have way more questions than answers about this new device. AT&T has so far been keeping silent about the technical details of the Nighthawk 5G, the price, the 5G data plans, or the availability date. The only detail AT&T will reveal is that the Nighthawk 5G is based on Qualcomm's Snapdragon X50 5G modem chipset.
But AT&T has been boasting for a while that it will launch mobile 5G service in "parts" of twelve cities by the end of 2018, with an additional seven cities coming online in early 2019. So time is running out - but AT&T has recently told analysts to expect details "in the next few weeks".
Our guess is that AT&T will officially launch this device and a 5G data plan in mid-November - and we will be sure to update this story when we know more.
The big question is the data plans...
Will AT&T bring out a truly unlimited data plan to allow people to really take advantage of the 5G network's potential, or will data usage be capped?
The image AT&T released of the Nighthawk 5G shows a limited 15GB data plan on screen - a very trivial amount if you take 5G speeds into consideration.
AT&T's Initial 5G Cities
AT&T's first 5G tests have been happening in Waco, TX.
Here are the twelve cities AT&T has targeted for 2018:
Waco, TX
Dallas, TX
Atlanta, GA
Charlotte, NC
Raleigh, NC
Oklahoma City, OK
Indianapolis, IN
Houston, TX
Jacksonville, FL
Louisville, KY
New Orleans, LA
San Antonio, TX
And coming in "early 2019":
Las Vegas, NV
Los Angeles, CA
Nashville, TN
Orlando, FL
San Diego, CA
San Francisco, CA
San Jose, CA
Remember - AT&T is only promising to deliver 5G in "parts" of these cities, and it will take a LONG time for a true nationwide 5G network to be built out.
Fortunately - every 5G device should work on 4G networks when 5G is not available.
Update: The Race to 5G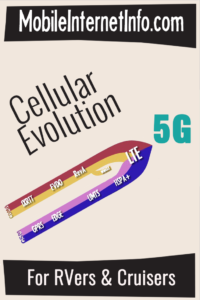 Verizon can claim they won the race to be the world's first to deploy 5G service with a very limited rollout starting earlier this month of fixed residential 5G service in four cities.
But in racing to be first, Verizon deployed pre-standard technology - and they will need to replace all that initial hardware next year once standardized 5G gear is ready.
AT&T on the other hand seems to be focusing on getting just a single standards-based mobile 5G device to market this year - the Nighthawk 5G.
But both of these pushes to get things out by the end of 2018 are really just about bragging rights.
The more interesting race will actually heat up in 2019, when the first 5G phones are being promised to be revealed sometime during "the first half of the year" and all the carriers are slated to start deploying mobile standards-compliant 5G service.
Meanwhile, coverage areas will expand from limited small trials to large deployments. Verizon, AT&T, T-Mobile, and even Sprint are all moving aggressively with their plans for 5G in 2019 - and only time will tell who actually manages to best deliver on the promise of this new technology.
We'll of course be tracking this all closely here, every step of the way.
Summary: Should You Hold Out For This Nighthawk?
The new Nighthawk 5G seems destined to become AT&T's flagship mobile hotspot - and presumably it will outclass the current generation Nighthawk even on existing 4G/LTE networks.
But until we know the pricing and other details it is hard to know whether the Nighthawk 5G will be a worthwhile choice to invest in for anyone looking to purchase an AT&T hotspot, especially if they are outside of the initial 5G cities.
If future proofing is your goal - it may make sense to hold off on any AT&T hotspot purchases for at least a few weeks just so that you can get the details to make an informed decision.