AT&T is running a limited-time offer for it's prepaid unlimited plans, which increases the autopay discount by $10/month to $20/month. This brings their unlimited prepaid smartphone plans down to as low as $45/month.
The time period for signing up is limited, but once signed up and enrolled in autopay, the discount will remain for as long as you stay on the plan and keep paying your bill.
Busy?
Just want a quick wrap-up?
---
Discount Details
To get the discount customers must activate a new line of service on the $65 or $85 unlimited plan before the offer end date (1/10/19 in AT&T stores or 12/26/18 online) and then enroll in AutoPay by 1/10/19.
Customers will get the $20/month AutoPay discount as long as they remain on the $65 or $85 plan. Switching plans will cancel the promotional discount and will revert the lines to the standard autopay discount.
Only AT&T's two unlimited prepaid plans are eligible for the increased discount - here's how AT&T's prepaid options stack up with the discount included: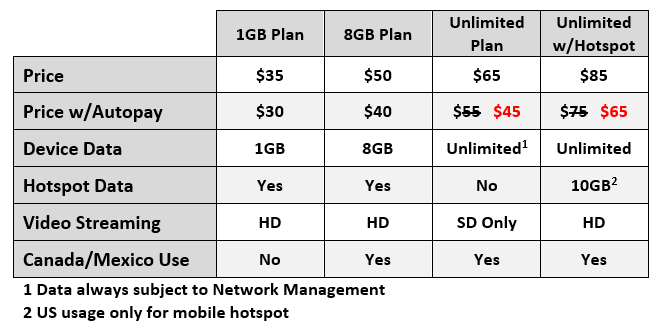 ---
Unlimited Prepaid Plan Details
AT&T's prepaid unlimited plans include the following options, features, and policies:
Domestic Roaming: (unconfirmed) - AT&T Prepaid seems to include domestic roaming, and likely has similar limits to postpaid accounts.
Network Management: The $65 ($45 with autopay discount) unlimited plan is *always* subject to network management - the $85 ($65 with autopay discount) unlimited plan is subject to network management after 22GB of data. This means may be slowed down during times of congestion.
International: Unlimited voice, text & on-device data in Mexico & Canada. AT&T may cancel your plan for using more than 50% of this service outside the US. The 10GB of hotspot data for the $85 unlimited plan is restricted to the US only.
Mobile Hotspot Use: The $85/month plan options includes 10GB of high speed hotspot data. Data is slowed to 128kbps once hotspot data is used up.
Standalone Hotspot Device: This is a smartphone only plan - there is no option to add a standalone hotspot or tablet line.
Video Streaming: No video streaming service perks are included with prepaid accounts and streaming always uses plan data. The $65 unlimited plans is restricted to 480p SD video only.
Device Lock/Unlock Policy: AT&T Prepaid devices are eligible for unlocking after 6 months of active service.
---
Summary
This is a pretty good discount considering it will remain active for as long as you have the plan and pay your bill.
How does it compare to AT&T's post-paid Unlimited plans? Pretty well, actually (click the image for a larger version):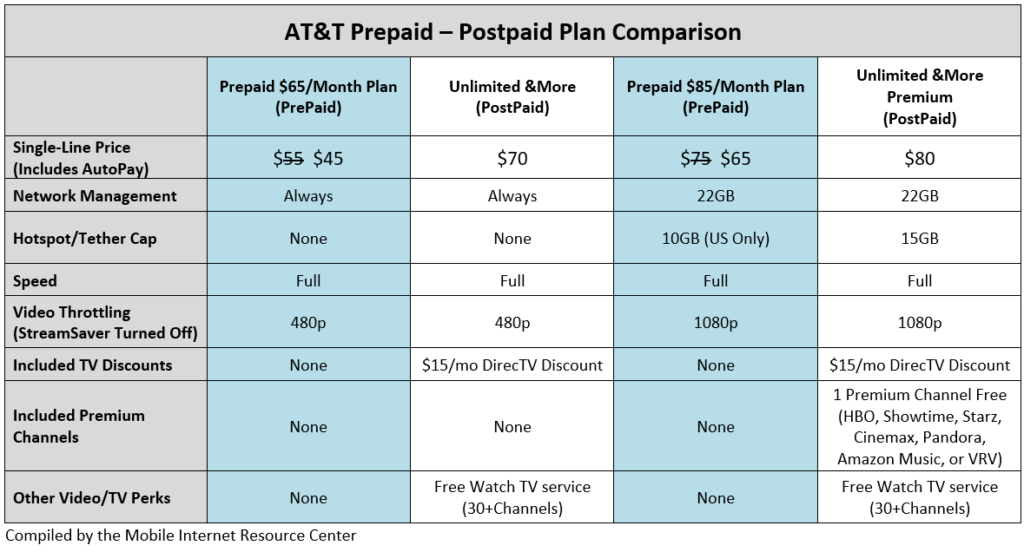 So customers who don't need other AT&T discounts or bundled services can save a lot.
---
Cricket Promo
Cricket Wireless is also running a promo sale on AT&T based data - offering four lines of unlimited data for only $100 under the unlimited plan. This plan includes unlimited talk, text and on device data, and 10GB high-speed mobile hotspot.
More info on Cricket, and their plans: Cricket Wireless
---