Key Points:
HBO Max is AT&T's newest streaming service with tons of unique content.
It's available for free with AT&T wireless plans that include free HBO.
The mobile app supports HDMI out.
After much anticipation and fanfare, AT&T today launched it's latest video streaming service, HBO Max, adding to AT&T's growing collection of current and defunct streaming services and apps. This service is much more than just HBO as it includes tons of other content, much of which is not available anywhere else.
AT&T hopes that HBO Max will be a hit and compete well with services like Netflix and Disney+.
But

what does all this have to do with mobile internet? Well, AT&T included free HBO with many wireless plans over the years and that plan benefit extends to HBO Max, even though the streaming service is now much more than just HBO.
Navigating AT&T's byzantine maze of websites and apps to get that feature set up and working can be a chore, but fortunately for you, we have the tips and tricks to make this easier below.
---
Video Edition
Subscribe to our YouTube Channel
What is HBO Max?
HBO Max, in a nutshell, combines the venerable HBO service with a ton of original and archive programming thanks to AT&T's ownership of Warner Media and AT&T's purchase of licenses to popular shows like Friends, Big Bang Theory and others.
The service includes:
All current and future HBO content
Original content exclusive to HBO Max
Movies and TV Shows owned by Warner Media (which AT&T owns). This includes the Harry Potter movies and universe, Lord of the Rings, DC Comics, Turner, New Line, Castle Rock entertainment companies, and others.
Hit shows acquired for the service include Friends, Big Bang Theory, and Rick and Morty.
---
How to Get HBO Max
There are a variety of ways to get HBO Max. You can purchase it directly for $14.99/month. You can get it through a subscription to another TV service, including traditional cable or streaming TV services like Apple TV. Those who already subscribe to HBO may need to pay more to upgrade. Or you can get it for free through an AT&T wireless plan that includes the HBO benefit, including some grandfathered plans.
Free HBO Max From AT&T Wireless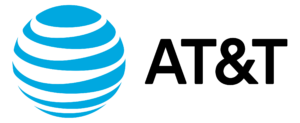 AT&T wireless plans with free HBO (and therefore free HBO Max) include:
Unlimited Elite (AT&T's current top-tier smartphone plan). AT&T's other current smartphone plans - Unlimited Starter and Unlimited Extra do NOT include free HBO.
Unlimited &More Premium (Retired 11/21/2019). This plan gave customers a choice of one free premium service - customers who selected HBO as their choice and have maintained that will get access to HBO Max.
Unlimited Plus Enhanced and Choice Enhanced (Retired 6/26/18)
Unlimited Plus and Choice (and Choice II) (Retired 2/28/18)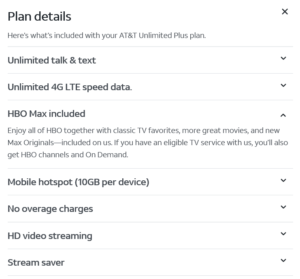 You can check or confirm your plan's eligibility via AT&T's account app or by logging into your myatt account on the AT&T website. Navigate to your plan details in your account and HBO will show up on the list if you're eligible.
Other AT&T plans do not get access to free HBO/HBO Max including all prepaid plans and business plans, plus data-only plans such as the Mobley, connected car, RV plans and tablet plans.
Additionally, AT&T post-paid tiered-data smartphone plans are also not eligible, including Mobile Share and Mobile Value.
Customers subscribed to the currently-available Unlimited Starter, Unlimited Elite and Mobile Share plans can get a free promotional month of HBO Max, but will pay full price after that month is up.
Additionally, starting on June 2, 2020, AT&T Wireless customers who sign into the myATT app or website may get a promo code for 30 days of free HBO Max. It's not clear if this promo is available to all AT&T customers who don't already get HBO Max for free.
Signing Up via AT&T Wireless
Once you've confirmed eligibility, signing up can be a bit complicated depending on your particular situation. Most wireless customers with the free HBO benefit will need to create an AT&T TV account and then use the credentials from that account to get access to HBO Max.
If you already have HBO set up on your wireless device, or were already using the HBO Now app, then everything should work - the HBO Now app will update to become HBO Max and migrate your existing account information.
For those who haven't yet used their free HBO benefit or want to get signed up, then you'll need to follow the steps in this AT&T support article.
AT&T Data Free TV - Does it Work With HBO Max?
After some initial hiccups, it appears that HBO Max does work with AT&T's Data-Free TV service, AKA AT&T "Sponsored Data."
AT&T acquired DirecTV in 2015 and Warner Media in 2018. Ever since, AT&T has encouraged customers to sign up for both cellular service and other AT&T services to include streaming services.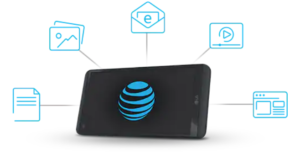 One nice benefit of these acquisitions for AT&T wireless subscribers is "data free TV" which allows wireless customers to stream TV from certain AT&T-affiliated apps over AT&T's wireless network without counting against any data or network management caps - as long as you haven't exceeded those caps with other data use.
The reason this works is that AT&T treats AT&T-owned services and content differently on its cellular network - allowing for unlimited streaming without any data counting against your monthly usage limits. This means that even if you're on a limited data plan (like Mobile Share), you can stream AT&T content and not worry about hitting your data cap. And, if you are on an unlimited plan, your AT&T content will not count towards hitting the plan network management threshold.
However, if you've already passed your network management threshold or data cap on a tiered data plan, then those limitations WILL apply to AT&T sponsored data.
Data-Free TV has long been available to those utilizing AT&T TV Now, Watch TV, and the dedicated apps for DirecTV satellite service and AT&T's wired internet Uverse service.
However, at the present time, it does not appear that the HBO Max app is eligible for sponsored data.
HBO Max App Features
The new app does support some features of interest to mobile users:
HDMI Out is Supported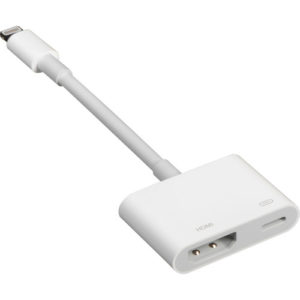 One great feature of the HBO Max app is that it supports HDMI-out, allowing customers to connect their smartphone or tablet to a big screen via an adapter and HDMI cable. This allows you to utilize your phone or cellular tablet's on-device data to stream so you don't dip into a limited amount of tethering/hotspot data.
For all the details and the caveats and pitfalls of this method, please see our TV and Entertainment Guide.
Downloadable Content
The app also supports content downloads that can be stored on the device for later viewing. Users can download high resolution or lower resolution versions to save storage space on the device and also for faster downloads. Additionally, users have the option to only enable downloads over a Wi-Fi connection.
It's not yet clear if all content on the service is available for download. Most streaming services that allow downloads restrict this feature for some shows, movies and programs due to licensing restrictions.
AT&T's Other Streaming Services
HBO Max is the latest in a long and troubled line of streaming services and apps, and AT&T is betting that this one will stick and be competitive with Netflix, Disney+ and similar competitors. There is still a confusing array of AT&T apps and services out there, many of which have changed names. Here's a quick summary so that you understand the app landscape:
HBO Max: The newest and latest and greatest app. The Android and iOS app is simply an updated version of HBO Now. For those who already have the HBO Now app, it will update to HBO Max.
HBO Now: For Android and iOS devices, there is no longer an HBO Now app. But the service itself still exists for now and the app is available on other devices like Chromecast, Roku and PC. HBO Now is a stand-alone streaming service that lets you stream HBO without a TV package but doesn't come with the extra content of Max.
HBO Go: HBO Go is the streaming service included free with a paid HBO subscription through a TV provider and has its own dedicated app for iOS and Android. As TV providers switch over from regular HBO to HBO Max, this service will become less relevant than it already is and it may shut down completely later in 2020.
For an even more detailed explanation of all the different HBO flavors, see this HBO Max support article.
AT&T TV: This app is now three old apps rolled into one and supports what was formerly AT&T TV, AT&T TV Now (aka DirecTV Now), and the DirecTV app for satellite subscribers. AT&T wireless customers that get free HBO on their plan will need to create an AT&T TV account in order to get access to HBO Max.
AT&T Watch TV: This was another live TV streaming service that was included as a free benefit in some wireless plans. AT&T plans to shut down this service and roll it into the AT&T TV service sometime in 2020.
Summary
AT&T has been planning the release of HBO Max for a long time and the company hopes it will finally be a competitive service with the likes of Disney Plus and Netflix. Although it bears the HBO name, it is much more than HBO an includes shows and movies from AT&T's massive Warner Media collection as well as other popular shows AT&T purchased the rights too.
The downside is the service is expensive compared to competing products, but it does include content that isn't available anywhere else.
For mobile internet users with a compatible AT&T wireless plan, the new service is free - a $15/month value. The mobile app also supports AT&T's sponsored data policies - allowing for data-free TV streaming and it is also compatible with HDMI screen mirroring so that mobile users can easily watch their favorite shows on a big screen.
Related News Stories

Related Content: