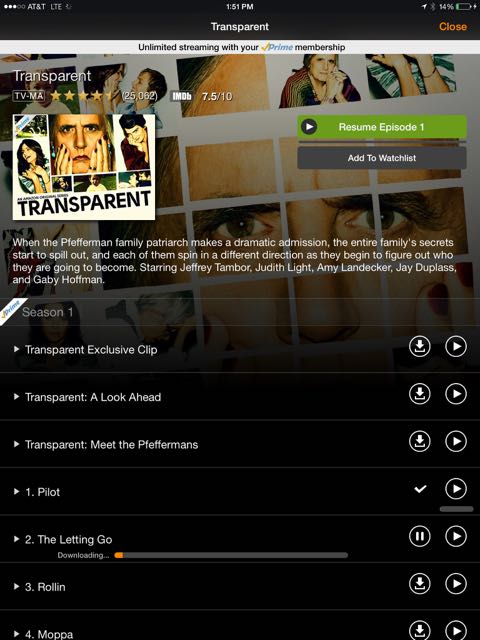 Amazon was one of the first streaming video services to offer the ability to download shows for later viewing offline - rolling that feature out last September in an update to the Amazon Instant Video App for iOS and Android.
This is a very handy feature for RVers who are frequently on data-limited or unreliable network connections.
With offline viewing - you can queue up shows while you are on a fast and free connection - stockpiling a whole season for binging later.
But there are two catches:
Offline Prime Video downloads expire after approximately 30 days.
You are limited by the amount of free storage on your mobile device.
Amazon yesterday released a small but important update that solves one of these limitation - for some Android users, at least.
Android SD Card Downloads
If your Android smartphone or tablet supports using an SD memory expansion card (not all of them do) - the newly updated Instant Video app can now be configured to download offline video content to your expansion storage!
Now when you have the opportunity, you can fill up multiple high-capacity SD cards with entire seasons of your favorite shows for binge watching later.
But don't get too excited storing away content for a rainy day - unless you have purchased and "own" the movie or TV show, each offline download will still have a baked in expiration date after which it will no longer be watchable.
But if you want to stockpile a week or a month's worth of media to consume at a time - this small update can make a big difference in your mobile media life.
What about iOS?
iPhones and iPads have never supported external storage cards the way that Android has, so this option will likely never be available for the iOS version of Amazon Videos.
The best alternative for iOS is to dedicate a media iPad with ample built in storage - 64GB, 128GB, or more.
---
MIA Video Chat: TV & Entertainment on the Road
Our monthly members-only video chat this week Thursday is focused on TV & Entertainment of the Road.
We'll be talking about our favorite tips and tricks for various online entertainment options while on the road - from streaming video, data plans that support it, offline viewing options, and other clever alternatives to consider.
Members - we look forward to chatting with you Thursday!
We're also working on a new featured article expanded from the 'Entertainment on the Road' chapter in The Mobile Internet Handbook that the video archive will be embedded in later.
Members, if you need the broadcast details you'll find them in the preview of the article while logged in (linked below). Not a member yet and want to join in - Learn more about our MIA Premium Membership.
TV & Movie Entertainment on the Road: Tips for Streaming, Downloading & Alternatives