Key Points:
Newly released WiFi Camp Pro 2 V2 is an upgraded Wi-Fi extending device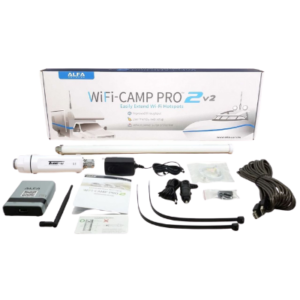 Alfa has released a "Version 2" of their WiFi Camp Pro 2 kit.
This device focuses on a very basic feature set: Wi-Fi extending only. Alfa hardware has a solid reputation for picking up weak 2.4 Ghz WiFi at long range.
The WiFi Camp Pro 2 is Alfa's packaging of the Alfa Desktop R36 WiFi with their External RV Booster Tube.
This Version 2 kit is identical to the original version, but with an updated chipset to the repeater that should, in theory, give it higher throughput speeds.
This is an affordable Wi-Fi extending solution available at multiple retailers - but does not offer integration of other mobile internet options like cellular.
It is most prominently offered through TechnoRV, a highly regarded vendor of this product line who provides customer training and support (and offers our members special discounts.)
TechnoRV.com has sent us the WiFi-Camp Pro Kit 2 v2 for evaluation for an upcoming comparison to other Wi-Fi as WAN options on the market.
We tested the original WiFi Camp Pro in early 2017 and the first edition of the Pro Kit 2 in 2019 (both also provided by TechnoRV.com).
Our members have access to our review & video tutorial and field testing results from our last round in this field testing lab report: Mobile Router & Wi-Fi Gear Testing (Winter 2016/2017)
Related News Stories

Related Guides: