As hoped for, there are some great deals to be had on close out models from Wilson Electronics. Earlier this year, the company rebranded as weBoost and they repackaged up their popular mobile boosters. The new boosters are essentially the same exact specifications as the Wilson equivalents, just in different colors & formats... with Canadian certifications.
As the new weBoost Drive 4G-S and 4G-M models are hitting the market at their higher prices - the older Wilson boosters are disappearing from shelves. Already we see stores no longer carrying the older models, and some stores that still have them are discounting the devices.
Wilson Sleek Purchasing Options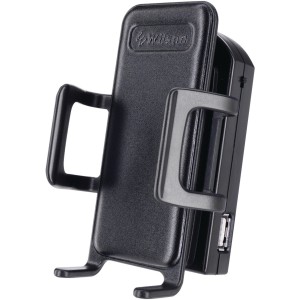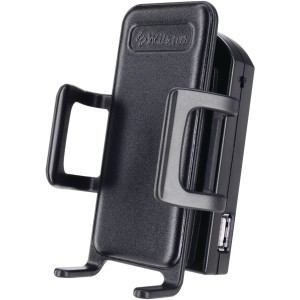 The Wilson Electronics Sleek (and new weBoost 4G-S) is a great option if you just want a little boosting power onboard to provide better signal to one device at a time - such as a smartphone or mobile hotspot.
Your device just sits in the cradle provided with this kit, and you route the included antenna into a window or up onto the roof. You will need to mount the antenna on a piece of metal, as that is part of the antenna design for optimal performance.
Reasons to get a Wilson Sleek 4G (model 460107):
If you just need to boost one device, and don't need a lot of boosting power - now is a great time to pick one up at a really affordable price.
If you're awaiting the pending future options for stronger and more robust boosters, picking up a discounted Sleek now can be a great temporary booster to tide you over until other options are on the market and reviewed. Heck, you might even find this little booster is all you need, or worst case - you can move this booster to your vehicle (tow or toad) after you install your upgraded RV booster.
Here are the current deals we know of out there for picking up a Wilson Sleek:
On Amazon (both the weBoost and Wilson options are shown for price comparison):
Wilson Mobile 4G Purchasing Options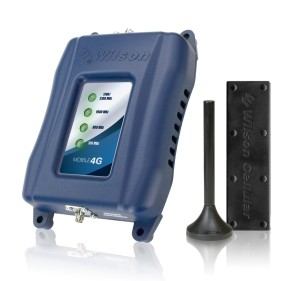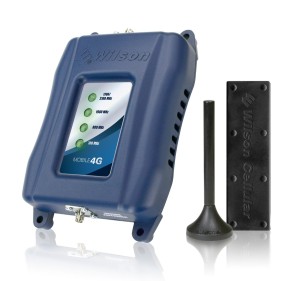 The Wilson Electronics Mobile 4G (and the new weBoost 4G-M) is the current most powerful mobile booster kit on the market for LTE. It can boost multiple devices on multiple networks at once, however all of those devices need to be located within a few feet of the interior antenna.
Reasons to get a Wilson Mobile 4G (model 460108):
This has been a solid product since it came out, and is our top pick for those who need more powerful mobile boosting. At the discounted prices, this is a great deal if you're comfortable with the limitation of needing to have all your devices within a few feet of the interior antenna.
However, with pending new boosters coming to market soon - the price point, even at the discounted rates, makes this more of a long term purchase not a temporary device. So it may make it worthwhile to hold off on purchasing a booster of this caliber until more options are available.
Of course, those new boosters will be at higher price points more in the $450-700 range.. and when they come out, it is unlikely you'll be able to pick up a Mobile 4G at prices this low.
Here are the current deals we know of out there for picking up a Wilson Mobile 4G:
On Amazon (both the weBoost and Wilson options are shown for price comparison):

What's on the Cellular Booster Horizon?
In the coming weeks or months, weBoost is planning to introduce the new Drive 4G-X and Drive 4G-XR (specifically for RVs), which is rumored to be an even stronger booster. Specifications for these models are not yet released, and the launch dates seem to keep being pushed back as they await full FCC certification.
We're also in the know of a couple other similar boosters, such as the Maximum Signal, awaiting approval that will hopefully, finally, bring more options to market for RV mobile boosters.
The FCC certification process is arduous, as soon as we hear of these products coming to market, we'll announce it right here on the RV Mobile Internet Resource Center. We are scheduled to get review units of each.
Related Articles:
Comparison: Mobile 4G Cellular Boosters (weBoost Drive, MAX-AMP vs SureCall) - We're tracking all of the 4G cellular mobile boosters we know of in this article.. and overview the specifications & pricing of all of them.
Cellular Booster Testing: New Wilson Sleek & Mobile 4G vs pre-2014 Boosters (member exclusive content) - Our in-depth reviews of the Wilsone Sleek versus Mobile 4G.