This week Woodalls published an article about Guest WiFi in their Campground Management newsletter, proclaiming WiFi to be an essential utility to RVing customers. Right up there with electricity, water and sewer.
According to the article, 74% of guests want WiFi compared to just 30% who request cable TV access.
However, despite the demand - most campgrounds and RV Parks under deliver the expectation of providing fast and reliable internet access. Most RVers these days are traveling with smartphones and laptops or tablets, and expect to be able to get online to check into social media sites, send an e-mail to loved ones and scout out routing options for their next destination. Some would even like to video chat or stream video content.
Internet is indeed the new electricity when it comes to RV Park amenities.
And more and more RVers are hitting the road prior to retirement with higher expectations of internet access. Some even working remotely on the road or homeschooling their kids as they explore the country. Many of those consumers have learned to accept campground WiFi reliability as a bonus, not a given - and travel with their own internet solutions ranging from cellular data plans to satellite.
RVers want to sit in the comfort of their RV homes, in their pajamas, and surf the web.
Listing WiFi as an amenity offered at a RV Park and not delivering a strong reliable signal to each site, is like advertising electric hook-ups that require 100+ foot extension cords to reach a shared 15A circuit.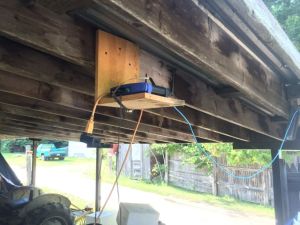 It's great to see campground managers having this long overdue conversation. It's no longer good enough to bring in a single DSL line to a campground and put a weak router up, and expecting guests to be satiated to bring their laptops to the campground office to check e-mail.
Hopefully more and more campground managers will get the message, and invest in more thorough WiFi solutions in their parks to meet the demand. Perhaps one day we'll not only be asked if we want 30 or 50A electric service when making a reservation, but 10mbps or 30mbps internet speeds.
In the meantime, RVers who want to remain online in their travels need to assemble their ideal arsenal of internet solutions to match their travel styles, needs and budgets.
To learn more:
RV Mobile Internet Overview of the Options