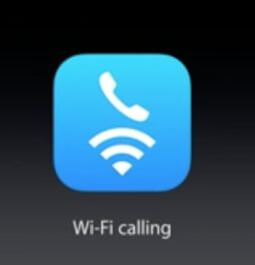 WiFi calling (also known as "voice over WiFi" or VoWiFi) is a feature of some phones and cellular networks that allows for voice calls and text messages to be routed over any available WiFi network when cellular service is not available.
In practice - VoWiFi turns any WiFi hotspot into a cell tower, expanding coverage indoors where cellular is often weak, while also helping make up for lack of coverage overall.
WiFi calling also works on WiFi networks internationally - allowing for free voice calls while traveling overseas.
T-Mobile has long been the leader in VoWiFi, with full support for this feature built in to every T-Mobile phone since last September. To avoid dropped calls, T-Mobile even supports seamless handoff between cellular and WiFi networks.
Sprint has had more limited VoWiFi support on a handful of phones for a long while now, but is making a big step forward this week by enabling VoWiFi for all Sprint customers with the latest iPhone models: 6, 6+, 5s, and 5c.
From Sprint's announcement:
"Wi-Fi Calling is like a major expansion of our network, allowing Sprint customers to get coverage anywhere they have Wi-Fi connectivity. Traditional wireless technology has some limitations in places like basements and high-rise office buildings. Wi-Fi expands our customer's connectivity in a big way. The addition of Wi-Fi Calling for iPhone customers is just one more example of how Sprint is getting better every day."
Sprint's WiFi calling is enabled in the newly released iOS 8.3 software update.
NOTE: Sprint's WiFi calling FAQ notes that text messages over WiFi to iOS devices are NOT supported, but that this support is expected in the future. Also - unlike on T-Mobile, calls placed using Sprint WiFi calling will not seamlessly handoff from cellular to WiFi. If you walk out of WiFi coverage, the call will drop.
What About AT&T and Verizon?
With substantially better native coverage, WiFi calling is not nearly as needed of a feature on the big two networks. But it would still be nice to have - especially to enhance indoor coverage and international travel.
AT&T announced last year that it intends to begin supporting WiFi calling "sometime in 2015", but it has not given any updates since.
Verizon has also promised VoWiFi coming sometime this year, but has said it is not "a top priority" to roll out service, boasting:
"We built our voice platform so extensively [that] there was never a need for us to tell our customers, 'Oh, our network is not good enough so you need to go on Wi-Fi to complete your call.'"
WiFi Calling - A Great Tool For Nomads
For nomads - VoWiFi allows you to take advantage of a voice line on a network with limited coverage, potentially routing calls through a data connection provided by a hotspot on your primary network.
For example - you could have a voice line from Sprint or T-Mobile with an unlimited data plan for streaming video in areas where they have coverage. And then use a mobile hotspot on Verizon or AT&T's network for data connectivity everywhere else. With WiFi calling - via your hotspot you'll still be able to make and receive voice calls even in the areas Sprint and T-Mobile have no signal.
But be careful - don't leave your phone on WiFi when you don't need it to be, otherwise all your phone calls will end up routed over your hotspot, burning through your limited data!