In the past couple of weeks, we've been alerted to a couple new cellular plan offers that at first glance sounded like great affordable solutions for data hungry nomads.
Until you read the fine print.
Here are two such recent deals, and the details that may make them not as attractive as they first seem.
Cricket Wireless - 20GB AT&T Plan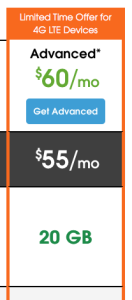 Excitement was brewing when AT&T-owned MVNO Cricket recently announced a new cellular phone plan that includes 20GB of AT&T data for just $55/month. Heck, that sounds like a GREAT deal.
It is indeed a fine plan for a phone plan.. but as a mobile internet plan, it's on device data only that can not be shared. Which is why we we're not specifically recommending it for data hungry nomads.
Here's some of the details from the fine print:
Tethering is not officially allowed (you may be able to jailbreak or get around this, but it could jeopardize your account)
They specifically disallow transferring large files & streaming, and a bunch of other internet needs you might appreciate
They cap download speeds to 8mbps, even before throttling after you reach 20GB of usage.
This Cricket plan is clearly intended only for email and light browsing and other things that can be accomplished on a smartphone screen. With the limitations in place, you'd be hard pressed to even manage to use 20GB of data in a month.
If that's all you need.. this Cricket plan is probably fine.
But for those looking for a mobile internet plan to get laptops, tablets, etc. online? Nope.. not a solution for that - and that's what we primarily focus on here - real mobile internet solutions.
Update: Later in 2015, Cricket added the option to enable mobile hotspot on plans over $50/month for an extra $10/month.
iWireless - Unlimited T-Mobile Hotspot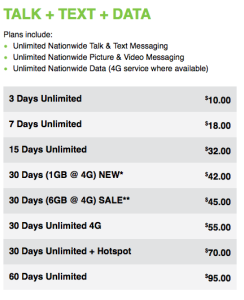 Unlimited Data WITH Hotspot so that you can share it, for $70/month?
We were recently asked about this new plan being offered by a company called iWireless, a "T-Mobile Affiliate".
Even if the unlimited usage is limited to T-Mobile's network, that could still be pretty darn intriguing.
However, it turns out that the "i" in iWireless stands for... Iowa.
You can only sign up for service with iWireless if you have an address in their home service area of Iowa, Western Illinois, or Eastern Nebraska.
Like many other small regional carriers, iWireless owns its own towers and actually provides rural roaming service across Iowa to both T-Mobile and AT&T. And to service its local customers who travel - iWireless has a deal with T-Mobile to provide iWireless customers with nationwide roaming in return.
Roaming is unlimited - but if the majority of your usage is outside the iWireless home area, they reserve the right to terminate service.
From the terms of service:
You must use your Device predominantly within the IWS-owned network coverage area. We may limit or terminate your Service without prior notice if you no longer reside in an IWS-owned network coverage area or if a substantial portion of your voice and/or data usage is Roaming.
So, sorry.. unless you're planning wandering only around Iowa, this isn't an ideal RVing data plan.
The lesson learned here? If a new deal you hear about sounds really excellent.. read the details in the fine print. Find out exactly what the limitations are, and if they're compatible with your usage intentions. If it sounds too good to be true, it probably is.
And if it is indeed a deal too good to be ignored for RVers - we'll be announcing it wide and far to let you know!