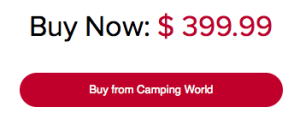 In a regular scan over the weekend, we noticed that while the previously announced weBoost RV 4G cellular booster was still listed as 'Out of Stock' on the weBoost website - a 'Buy from Camping World' button was now posted, along with a link to the PDF manual.
According to a customer service reply, the new booster kit will be available in a couple weeks direct from weBoost and other retailers.
Priced at $399.99, this booster kit is actually a re-packaged weBoost Home 4G signal booster, just with a more RV-friendly 12V power supply and a shorter included coax cable.

Like the Home 4G, the booster supports all of the major frequency bands utilized by Verizon, AT&T, T-Mobile and most from Sprint. It can boost multiple devices at a time.
The 60dB gain of the RV 4G and Home 4G is above the legal 50dB limit for mobile boosters, but the directional panel antenna included in the kit is not conducive to operation while in motion, requiring setup and rough aiming at every new location. This setup requirement allows weBoost to get around the rules regarding marketing "home" boosters for RV use.
How Practical is this for RV Use?
While a directional antenna and stronger booster will indeed create a stronger boost, it does come at the cost of increased setup time at each stop as compared to a mobile cellular booster.
At each stop, the customer will need to find the direction of the cellular tower being utilized and mount the exterior panel antenna in the suction cup cradle on the exterior of the RV, and then route the coax cable to the interior components.
For occasional RVing or longer term stays, this may not be much of an inconvenience and worth the while to maximize the signal received. For those that move more frequently, this could be come a frustrating hassle.
This booster setup will require between 20-50' of exterior and interior antenna separation. For smaller RVs, this may not be achievable.
Because of the increased power, it is critical that the interior antenna and exterior antenna be facing away from each other - which depending on where you need to mount the exterior antenna at any given stop, may decrease the practical usability of the this sort of booster setup.
It's also important to note that with antenna setups - height helps. So mounting the exterior antenna on the roof or up a pole can be quite advantageous to better 'see' the cellular tower. For instance if you're in an RV Park, there could be another RV right next door that is blocking the signal to an antenna mounted on your bedroom window.
For these reasons, we recommend RVers who change locations frequently to consider one of the boosters designed for mobile use.
Cellular Booster Testing has Started
We have now received a Wilson Electronics Mobile 4G (aka weBoost 4G-M), TopSignal SolidRF, weBoost 4G-X and the very first MaximumSignal Max Amp Mobile RV prototype should finally be arriving to us later today.
We will also attempt to procure the new RV 4G.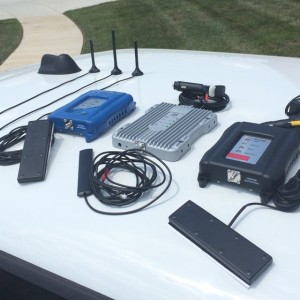 We have started an extensive and long term head-to-head evaluation, taking measurements from multiple carriers & devices, in a variety of locations & signal situations.
Our Mobile Internet Aficionado members have access to our field testing results as we take them to follow the study.
Once we have collected enough data to see patterns emerge, we'll be able to make recommendations on specific booster models for different situations. As well as write a more in-depth review of each model.
We hope to have enough data to make that sort of evaluation later this fall.
Additional Resources: