weBoost has announced a new cellular booster explicitly targeted towards RVers - the weBoost RV 4G.
From the press release:
Designed to boost signal for multiple users inside of an RV, fifth wheel or bumper pull trailer, the weBoost RV-4G includes a reversible suction cup mount that allows for easy installation and orientation of the outside antenna on the exterior of the trailer. It also includes multiple, convenient power supply options – a AC wall adapter, 12V DC cigarette lighter adapter, and hardwire – for flexibility in powering the booster.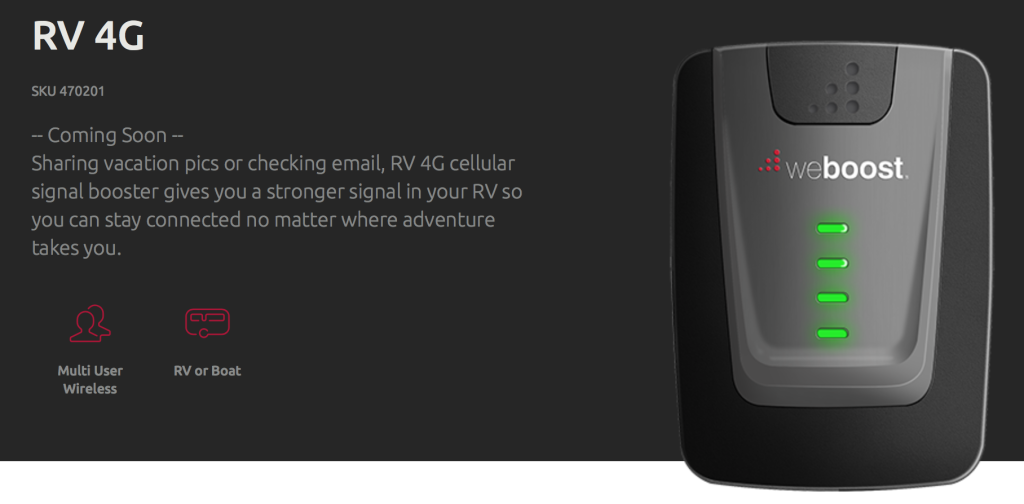 The RV 4G has a suggested price of $399.99, and is listed as "coming soon" with no release date given. We've been told not to expect it to ship before late summer or early fall.
RV 4G = Home 4G?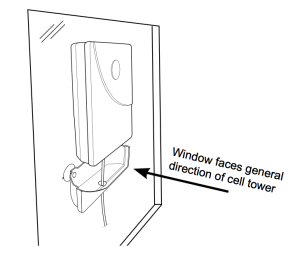 Looking at the pictures and the specs of the RV 4G, it seems to be an exact match to the current weBoost Home 4G signal booster, and I've been able to confirm that this is indeed the case - just with more flexible 12V power supply options added to the mix.
The 60dB gain of the RV 4G and Home 4G is above the legal 50dB limit for mobile boosters, but the directional panel antenna included in the kit is not conducive to operation while in motion, requiring setup and rough aiming at every new location. This setup requirement potentially allows weBoost to get around the rules regarding marketing "home" boosters for RV use.
The actual details of the RV 4G are still being finalized, so it is possible that weBoost may change plans on what antennas will be bundled before shipment. But I've been told that right now "it is likely" going to be a very close match to the Home 4G kit.
Drive 4G-X - Now Shipping!
The other major weBoost news - after many delays, weBoost's new flagship mobile booster the Drive 4G-X is now shipping to retailers, and will soon be available (3G Store claims "ships on 6/4/2015") for $479.99.
Though it has the same 50dB amplification gain as the cheaper $379.99 Drive 4G-M, the 4G-X is a more advanced design with substantially increased transmit power. According to weBoost:
"The weBoost Drive 4G-X is your answer to all those times you've lost connection on the road. It offers stronger cellular connections by operating with the maximum output power allowed under current FCC regulations, extending your service range up to 60 percent farther than other boosters on the market."
I asked weBoost to better explain the difference between the 4G-M and 4G-X, and was told the following:
"The Drive 4G-X unit carries the same amount of gain as our Drive 4G-M (50 dB), but will provide a greatly improved reach to cell towers than any of our other mobile boosters and will be a great fit for rural traveling. This booster also offers 5 bands of coverage and low-profile antenna options. If you will be traveling in these rural areas frequently, where other boosters may typically struggle to get signal, then the Drive 4G-X is our best recommendation."
The 4G-X indeed has more transmit power - according to a preliminary spec sheet I was shown at 800MHz it puts out 29.0dBm transmit power versus 23.4dBm for the 4G-M and 24.6dBm for the Home 4G / RV 4G.
That is nearly a 4x increase in transmit power.
We are eager to put this booster to the test to see how well this actually pays off in real world use. For those focused on data speeds, will the 4G-X deliver substantially better results than the 4G-M or the RV 4G?
We will have a review unit soon to begin long term testing with.
weBoost Antenna Update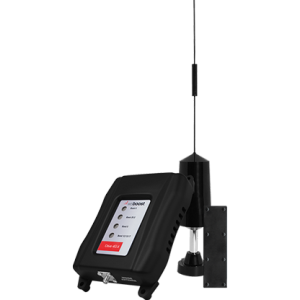 I've once again confirmed that the weBoost Drive 4G-XR kit that combines the Drive-4G with a new wideband RV roof-mount antenna is delayed until next year:
"The Drive 4G-XR is a kit that could take another year to launch, but it will be very similar to the Drive 4G-X just added antenna accessories."
We've learned that some resellers are planning to offer the Drive 4G-X with RV or "trucker" style antennas from weBoost instead of the included miniature magnetic stubby antenna, but for those interested in data - this "upgrade" is a mistake.
The weBoost trucker antenna actually has a negative gain on the AWS frequencies used by T-Mobile, Verizon XLTE, and now AT&T too.
weBoost confirms changing antennas is a bad idea:
"We try to stick with the 4'' mag any way we can, because many of our trucker/rv antennas are not great with data. They help with the voice, but we hurt data."
There really are not a lot of great antenna options that support all the key LTE frequency bands. We look forward to more options becoming available and being offered in kits with boosters.
Until then - the 4" stubby antenna is a surprisingly decent option.
Further Reading:
Comparison: Mobile 4G Cellular Boosters (weBoost, Top Signal, MAX-AMP, SureCall)
Antenna Ground Planes for RV Use of Mobile Cellular Boosters