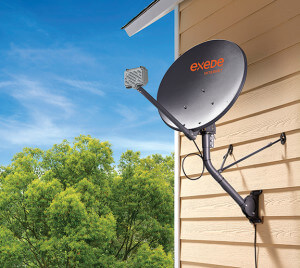 Satellite internet tends to be all about limitations - slow, capped, and often very expensive.
So it is little wonder that a lot of RVers were excited by the news this week about new service plans from ViaSat's Exede division -- offering "virtually unlimited" 12Mbps internet service for just $70/month. Wow!
But...
Exede is a "spot beam" service, and the only way to change the spot beam a receiving terminal is assigned to is by having a certified installer on the phone with Exede's Network Operations Center.
It can't be done on your own the way the system is currently designed.
So even if you somehow manage to rig an Exede dish to be portable and mount it on a tripod or on the roof of your RV rather than the side of a fixed house, once you travel outside of your assigned area your dish will cease to function.
Exede offering an unlimited service plan is indeed big news, but unfortunately not mobile friendly.
The plan isn't even being offered nationwide due to the limitations of Exede's current satellite deployment. According to Exede:
The new "Freedom" plan will be initially offered along portions of the Eastern Seaboard and the Gulf Coast; select counties in California, Arizona, and Minnesota; and across most of Alaska, Hawaii, and Florida.
ViaSat does offer commercial enterprise-grade mobile satellite systems that can auto-aim and change assigned spot beams automatically - but these are currently very specifically tailored for commercial jets in flight (United and JetBlue), remote news trucks doing live coverage in the field, and emergency deployments (like the Red Cross).
I tried to find anyone offering mobile ViaSat systems (at any price) for general consumer use to include in the satellite chapter of The Mobile Internet Handbook, and as yet there aren't any.
The technology is there - but the RV market in particular is so small and so cost conscious that I don't think ViaSat is likely to even look at targeting it anytime soon.
But we can continue to dream...