Earlier this year, Sprint's prepaid division - Virgin Mobile launched the new 'Data Data Right' plan, available exclusively at Walmart.
The relevant feature for data driven RVers was the multiline plans that offered usable data limits that were able to be shared as a mobile hotspot at no additional charge. This is a relatively rare feature, as many MVNO prepaid phone plans don't include tethering or data sharing.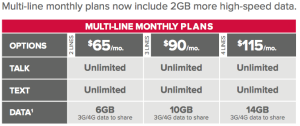 Starting today, Virgin Mobile has added an extra 2GB of data those plans. Starting at just $65 a month for two lines with unlimited text and voice, the plans now include 6GB (previously 4GB) of shareable data.
Additional data can be purchased ranging from $2 for 100MB to $85 for 20GB. These are pretty reasonable prices for tetherable data. For $5/device per month customers can enable unlimited data for usage of popular social media sites like Facebook and Instagram.
Their single line plans, which included unlimited data (now capped at 3GB of faster 4G service before throttling) do not include the data tethering feature.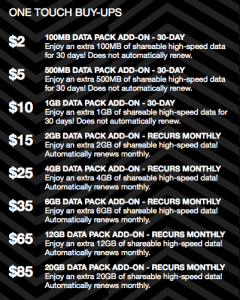 The plans are only available in Walmart stores, and at current time only 7 Android based phones are offered. The plans do require the purchase of these special phones that come pre-loaded with apps that help manage the shared data amongst the phones on the plan. The range of prices for the phones are $49.99 - $499.99.
There is also a $20 'starter kit' fee for each device as well, which also includes 2 free months of unlimited music streaming.
The biggest downside for RVers who need nationwide access in particular is that Virgin Mobile uses the Sprint network as its backbone. While the carrier is rapidly expanding their LTE network, it is far behind that of Verizon and AT&T and mostly constrained to urban areas. The plans do include limited off-network roaming for voice and texting, but not for data usage.
But this may present a viable option for some RVers, particularly those who do stick to bigger cities and interstates and just need a bit of flexible data for a reasonable cost, without contract or credit checks. This might even be an interesting option for our Canadian friends who snowbird in the USA for a couple months of the year
Further Reading: