Verizon is getting into the holiday spirit early this year, and is offering its customers a bonus GB of data to use on their current billing cycle, and another bonus GB on their next billing cycle.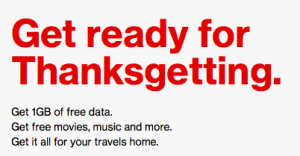 Customers on shared tiered data plans qualify for the promotion - including current Verizon Plan and legacy Mobile Everything and Share Everything plans.
To claim the bonus, customers need to log into their accounts by November 24 and redeem the offer.
Starting on November 25, Verizon has other bonus offers listed that can be redeemed including a $5 iTunes gift card, free Amazon downloads and access to the WiFi network Boingo. So do check back and see if you can score some other bonus holiday goodies.
Special Note: We've heard from some already who called Verizon instead of logging into their accounts, and were notified of other promotional deals not advertised. Some of the reports back include:
For those with 'west coast accounts' - Verizon is offering a bonus 12GB/month for 2 years at no extra charge (thanks to a member report, we've learned this only applies for plans with data buckets of $100 or above.)
For those in other markets, they were offered 2GB/month instead.
So it may be worth a call to Verizon to see if you're getting the best deal you can. With as often as the carriers change around their plan offerings, it usually a good idea to reassess your plan once or twice a year anyway.
Also, if you have a 'Millenicom Refuge' account, they do not qualify for these promotions. And neither do prepaid plans. We have heard however that those with double data deals from last year were able to claim the promotion and not lose their double data (we do advise specifically asking your Verizon rep this question however - losing those double data deals would be tragic!).