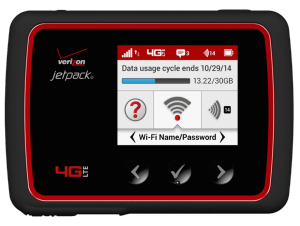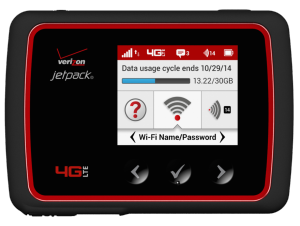 We've long considered the Novatel MiFi 6620L (our in-depth review) to be the go-to hotspot for Verizon customers - delivering overall solid performance and reliability.
And one of the best things about the 6620L is that it has been getting better via ongoing firmware updates - with the LTE Band 2 and LTE-Advanced Carrier Aggregation being enabled by way of the 2.0 firmware release put out by Verizon over the summer.
And this week Verizon released firmware version 2.5, a relatively minor update that adds one very nice feature: you can now create a WiFi hotspot and tether via USB at the same time.
This is handy because you can leave your MiFi tethered 24/7 via USB with a router like a WiFiRanger, and but can still connect directly to the hotspot via WiFi if you want to ever bypass the router - for example, to hop on via cellular with one device while leaving the router and the rest of your network connected to campground WiFi.
This is not an earth-shaking new release - but it is great (and all too rare) to see hardware that is over a year old still being actively supported with bug fixes and new features.
Good News for OmniLynx Customers: Those lucky enough to sign up for an unlimited Verizon data plan via OmniLynx Wireless during the brief window that this was possible in September were sent 6620L hotspots that were seemingly stuck with the old 1.4 firmware, lacking in support for the new LTE features added over the summer. No amount of "Check for updates" seemed to detect that the firmware on an OmniLynx provided Jetpacks was out of date.
But good news - we've been able to confirm that 2.5 is available and working for OmniLynx customers, at last bringing OmniLynx Jetpacks fully up to date!
Getting 6620L Firmware Updates
Upgrading the firmware on a 6620L couldn't be easier - you do not need to download zip files and install via a PC or Mac like in the old days, it is now all handled wirelessly over the air.
Right on the front screen of the 6620L you just need to select the "Software Update" option, and you will then be able to see what version you have installed and what the latest release is. Then with just a click (and around 5 minutes of downtime) you will be able to get upgraded to the latest release.
As with all firmware updates - never disconnect power or remove the battery while the update is underway, or "very bad things" might happen.
WARNING: We have had a few reports that after installing this update, USB tethering to Windows and Mac computers STOPS working. We have been able to confirm this issue ourselves, though tethering continues to work great via USB to a WiFRanger. We have reached out to Novatel for more information, and there is a discussion thread on the topic in our member forums.
If you use USB tethering to your laptop, do NOT install this 2.5 update yet!
Here are the official 2.5 release notes:
Verizon Jetpack MiFi 6620L Software Update Software Version: 2.5

This software update (SU2.5) fixes a Wi-Fi connectivity issue that many public safety customers were experiencing.
Fixed Wi-Fi connectivity issues.
You can now turn on Wi-Fi when using USB tethering.
Added data usage parameter to Mobile Broadband Management.
Fixed an issue where some devices were stuck in 1X.
Related Articles: