Verizon & T-moble have added more data to their prepaid Smartphone plans in the past week.
Verizon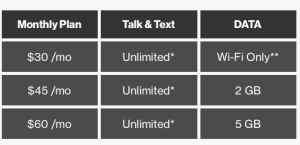 For $45 a month, they now include 2GB of data (previously 1GB), and for $60/month they include 5GB of data (previously 3GB). Both plans are eligible for a 1GB per month bonus if auto payment is setup, bringing the data allotments to 3GB and 6GB respectively.
The plans also include unlimited domestic voice and texting.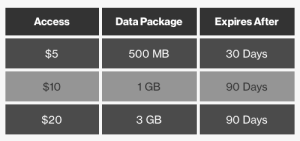 On Verizon direct prepaid plans, speeds are always at full speed (unlike their MVNO resellers like StraightTalk, where speeds are throttled generally to 5 mbps). However once the data bucket is used, extra data can be optionally purchased to reload the account. Rates are $5 for 500mb to be used within 30 days, and $10 for 1GB or a pretty reasonable $20 for 3GB (which can be used within 90 days).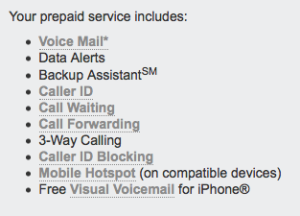 We have also confirmed that direct Verizon Prepaid plans now include the ability to use mobile hotspot to share the connection with other devices like laptops & tablets.
This makes the Verizon prepaid option even more appealing for RVers seeking an affordable option for a bit of flexible Verizon data in their pocket. For comparison, a postpaid 3GB smartphone plan is $65/month.
There has been no change to their data only prepaid plans since they changed them a few months ago, which continue to offer up to 10GB for $100 that can be used over 2 months.
T-Mobile
Both of T-Mobile's prepaid brands - it's own Simply Prepaid and MetroPCS have also gotten a data increase. All of their plans include mobile hotspot use.

The $40/month plans now include 3GB of data a month (up from 1GB) and the $50/month plans include 5GB (up from 3GB).
On Simply Prepaid, T-Mobile is also now offering 10GB of data with their $60/month plan (up from 5GB). MetroPCS's $60/month remains unlimited (but subject to network management after 25GB of usage), but the 6GB cap on mobile hotspot usage has increased to 8GB.
With T-Mobile plans, when the data cap is used up they revert to unlimited data plans but slowed to 128 kbps (only fast enough for e-mail and very basic browsing.)
Unlike T-Mobile postpaid accounts, prepaid options do not include unlimited video streaming (but they do benefit from the Binge On data maximizer) or Mobile Without Borders (it is available for a $5 add on.)
Mobile Hotspot on Prepaid
It's been a great industry shift to see more prepaid and MVNO options offering mobile hotspot usage included. Many AT&T prepaid options already did including their own GoPhone and reseller Harbor Mobile, and Sprint based Boost Mobile just added the feature as well.
Related Articles:
Comparison: Cellular Carrier Data Pricing & Plan Guide (member only, updated with these changes)