Verizon Prepaid (Verizon's direct prepaid division) has launched an unlimited data plan - with multiple limitations.
This plan is similar to ordering pancakes at a restaurant and receiving a stack of dry, slightly burned, flavorless pancakes while your friend across the table receives a fluffy stack of chocolate chip pancakes spread with butter, drizzled with syrup, and topped with a dollop of
whipped cream. And you both paid the same price.

For $80/month, Verizon Prepaid is offering an unlimited plan of on device only data. There is no tethering/hotspot use permitted. None at all.
And, while those on this plan are eligible to receive 4G LTE data in unlimited quantities, all of this data - from the first megabyte - is subject to deprioritization (aka, Network Management) behind Verizon postpaid customers. So, if you're on a busy tower, your speeds can be slowed regardless of the amount of data you have used on your device.
In addition, all video is 'optimized' to 480p. There is no option to increase the quality of this video. 480p is fine for the small screen it is intended for (smartphone), but if you are planning to mirror this video to a larger screen using an HDMI cord, you may be disappointed.
Verizon prepaid does permit unlimited text messaging to 200+ countries and texting/calling to and from Canada & Mexico. However, no international data usage is included.
Possibly the driest part of this offering? All of these caveats are offered to customers without discount. Both Verizon's prepaid unlimited plan and their postpaid unlimited plan are being offered at a cost of $80 (before taxes/fees).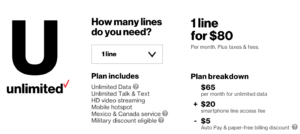 For the same $80, Verizon's postpaid unlimited plan offers 10GB of high-speed tetherable/hotspotted data after which the speed for mobile hotspot is reduced to 3G levels (defined as 600 kbps) for the remainder of the month. (Jetpacks & MiFis can be added to the postpaid plan, however are subject to these same restrictions.) The postpaid unlimited plan is not subject to network management until 22GB of usage in a month. HD video streaming is permitted on device on this plan. Calling/texting to Mexico/Canada is included, as is 500mb of daily data usage over the borders.
In comparison to T-Mobile's prepaid unlimited plan offering, Verizon falls short in all areas except for coverage. T-Mobile offers a prepaid version of its T-Mobile One plan with unlimited data for $75 per month, does not begin network management until after you've used 30GB, and includes hotspot / tethering (although it is at 3G speeds). One Prepaid allows you to stream HD video with 'On-demand $3 HD 24-hour passes' on their prepaid plan. In addition, T-Mobile One Prepaid allows for call, text, AND data use in Mexico & Canada at no additional charge.
The only reason that a data hungry customer may wish to purchase a Verizon Prepaid Unlimited plan: no credit check is needed.
If you're willing to go through a credit check, there is really no reason to pay for dry pancakes when you could enjoy fluffy pancakes for the same price.
Related Info: