In response to T-Mobile's awesome new "Mobile Without Borders" feature that extends unlimited voice calling, texting, and high-speed data into Canada and Mexico - Verizon has announced new "simplified International Value plans" - slashing the old roaming rates, especially in Canada and Mexico.
But for international travelers, Verizon's best still pales in comparison to T-Mobile.
Mexico & Canada - For Less?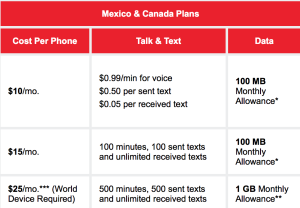 Verizon's new Mexico and Canada plans can be added to your domestic service for $15/mo which gives 100 minutes of talk and 100MB of data.
Or for $25/mo you can get 500 minutes of traveling talk and 1GB of roaming data - with overage charges of $20/GB.
If you have minimal voice and text needs - you can get 100MB for $10/mo, with each additional 100MB an additional $10.
These rates aren't great - but they make crossing the border while exploring North America a somewhat less painful proposition.
The Rest of the World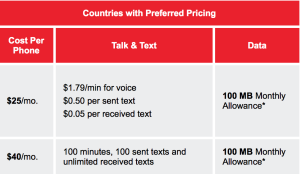 For traveling to other countries, an "International Travel Preferred Pricing" plan added to your Verizon account gives you discounted rates in 140+ supported countries.
With Preferred Pricing, you get 100MB of data for $25/mo, or can add 100 voice minutes and 100 text messages for a total of $40/mo.
Overage charges on either plan are $25 for an additional 100MB.
Paying $250/GB may seem excessive - but without a Preferred Pricing plan active the costs would be astronomically more.
The Pre-Planning Catch
VERY IMPORTANT: To get these discounted rates, you need to remember to add an International Value Plan to your Verizon account before you travel.
And to avoid paying an unnecessary monthly fee once you get back, you need to remember to cancel it when you return.
If you forget to activate the discount - without a special plan active, pay-as-you-go international data on Verizon is $2.05/MB ($2,050/GB) - even in Canada and Mexico!
The standard international roaming rates on AT&T are even worse, if you can believe it.
T-Mobile and Sprint on the other hand provide vastly better roaming options without any additional monthly costs to activate them, and with T-Mobile all plans get international features enabled automatically!
It is great to see Verizon playing catch up. But big V isn't anywhere close to jumping ahead.
Further Info: