There have been rumors swirling for the past year about a major new media streaming service in the works from Verizon.
It is at last here, and after a period of invite-only beta testing, is at last open to the general public.
And rather than something revolutionary - Verizon has seemingly invented its own mobile-only YouTube competitor, dubbed go90.
go90 - named for how you tend to twist your phone 90 degrees into landscape orientation when watching video on it.
Verizon describes go90 this way:
go90 is a social platform, built for the mobile-first generation, offering access to live and on demand video wrapped in a social experience. Some of the content you can expect to see on go90 includes live events, prime-time TV, best-of-the-web and original series across comedy, music, gaming, lifestyle, sports, news, and entertainment.
In other words - it seems to be Verizon's attempt to create an extra-hip cross between YouTube, Netflix, and Hulu.
go90 is available for iOS and Android devices, and at the moment you can ONLY watch via the app. There is no way to view go90 content on a computer, and since Verizon seems to be actively blocking Airplay, Chromecast, and even hard-wired HDMI output you can not even stream go90 content from your smartphone to your TV.
go90 content is advertising supported and is completely free to watch with no subscription fee required - and other than a few Verizon-exclusive shows, most everything is available even for non-Verizon customers.
Assuming you connect via free and unlimited WiFi that is.
If you are watching much go90 on a cellular data plan - be prepared for hefty overage charges. The go90 FAQ makes it clear that you will be "charged according to your data plan unless you are connected to a Wi-Fi network."
Watching video after all is the surest way to blow through limited data plans.
If you have an unlimited plan however - feel free to go90 till the cows come home.
Try go90, Get 2GB/mo Free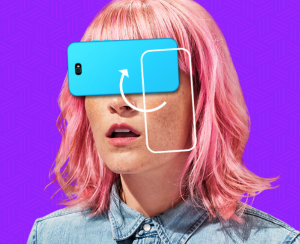 Even if you aren't excited to pump video from your phone into your "eyeholes" (their word - seriously) - if you are a Verizon customer it still makes sense to download the go90 app and create an account.
Just for signing up - Verizon will add an additional 2GB to your Verizon shared data plan, repeating the bonus for the next three months.
You get this data to use however you see fit, regardless of whether you watch a single go90 show.
And who knows - maybe you will get hooked on one of the upcoming go90 exclusive series, such as "Mr. Student Body President" or "#DoOver".
Interested in go90?
You can download the app and sign up for an account (and the promotional data) here: www.go90.com